If you manage an online store and don't follow the PWA trend in the eCommerce industry, you're missing out on a huge potential. The CedCommerce PWA theme (Cenia) is one of the common solutions for Magento store owners who wish to transform their eCommerce stores into PWAs.
Before we go any further with our opinions, let us give you a taste of what we're talking about. Let's access the theme's demo here and experience it yourself.
About CedCommerce Company
CedCommerce is an eCommerce facilitator founded 11 years ago and currently has a headquarter in Lucknow, India. It offers e-commerce solutions, web development, theme development, open-source development, mobile app development, and website design, among other services.
They assist customers with the expansion of their businesses on platforms such as Magento, Shopify, Opencart, Prestashop, WooCommerce, and others.
In terms of PWA solutions, CedCommerce offers Magento PWA extensions and the Cenia PWA theme. 
Cenia PWA Theme For Magento
CedCommerce has released the PWA Cenia theme for Magento 2, aiming to give the best-in-class PWA solutions to the eCommerce industry.
1. Technology
CedCommerce PWA Theme makes use of Magento PWA Studio's powerful technology, as well as ReactJS and GraphQL.
Magento PWA Studio
This is a base for various Magento PWA themes on the market, such as TigrenPWA, Simicart, or GoMage PWA theme.
CedCommerce's PWA theme can derive many benefits from using PWA Studio, including a limitation on code conflict between the storefront and backend and frequent updates.
React.JS
Thanks to its virtual memory, React helps the theme operates more robustly and becomes more SEO-friendly.
GraphQL
A GraphQL query only returns the data that the user has requested in their query. For this reason, it is often regarded as having greater power, flexibility, and efficiency than REST.
Taking advantage of this architecture, CedCommerce's Cenia PWA theme obviously improves its performance.
2. Design
There are 2 versions of the theme: PWA Cenia Theme (Free) and PWA Cenia Theme – Pro (Paid). However, we think that most of us will concern more about the premium version so we will focus on it in this review.
PWA Cenia Theme (Quick view)
Desktop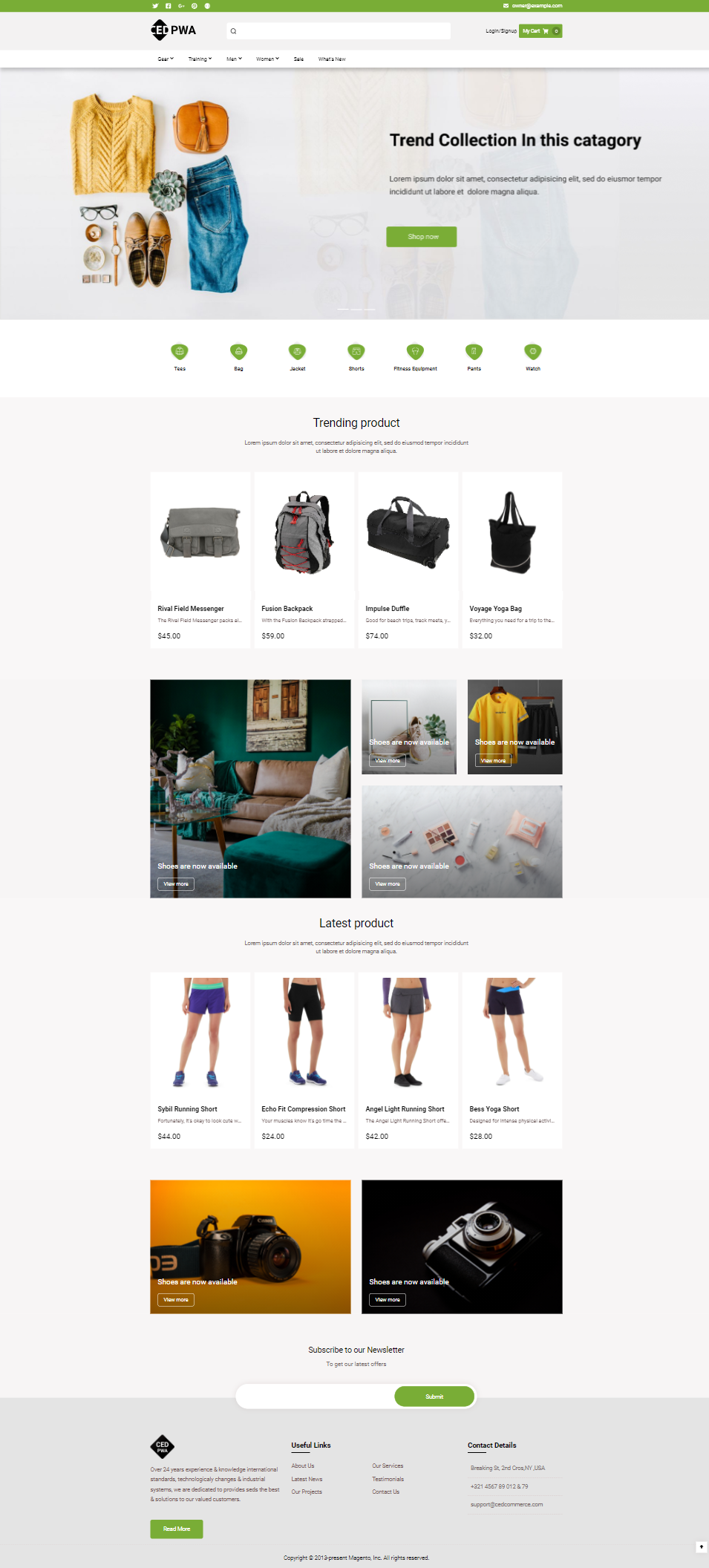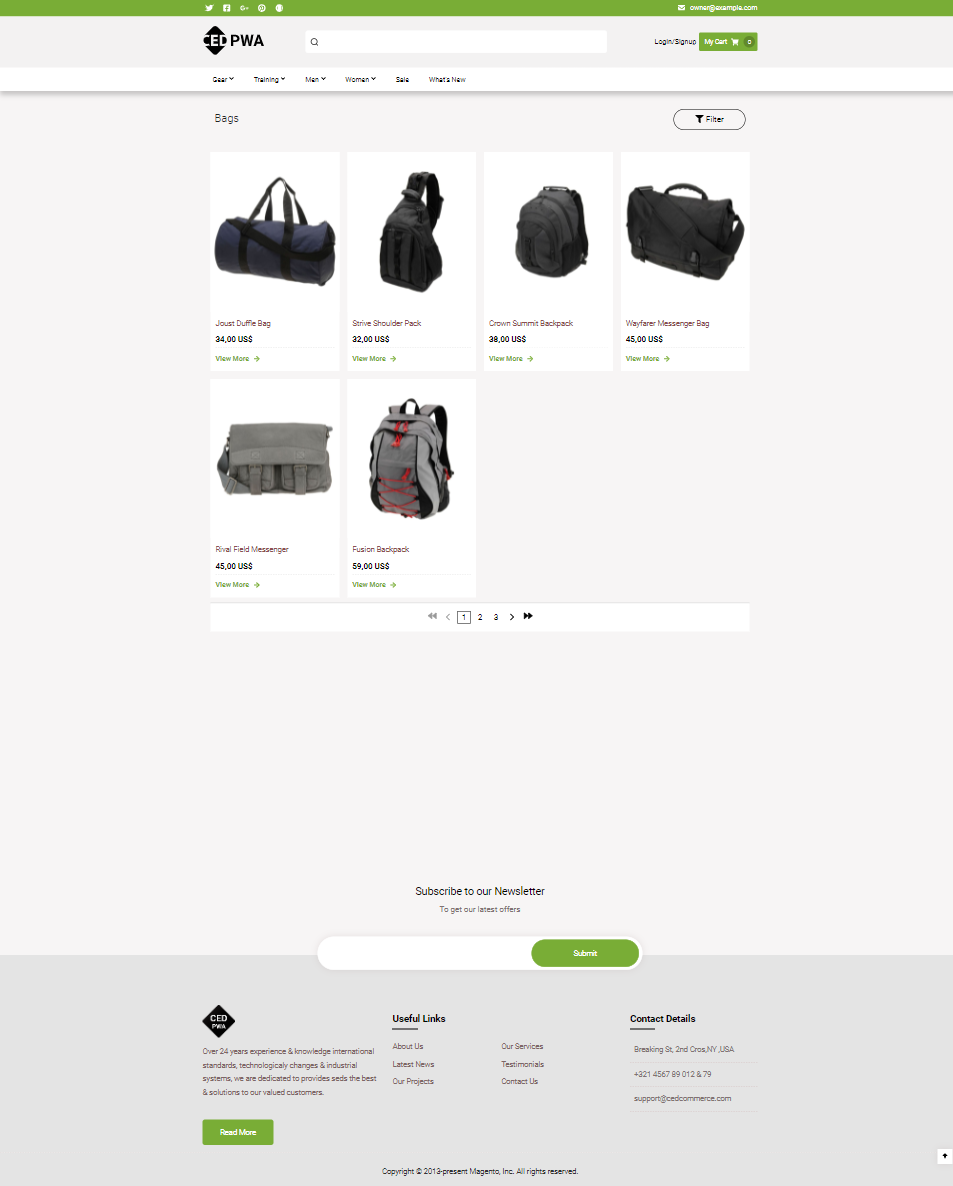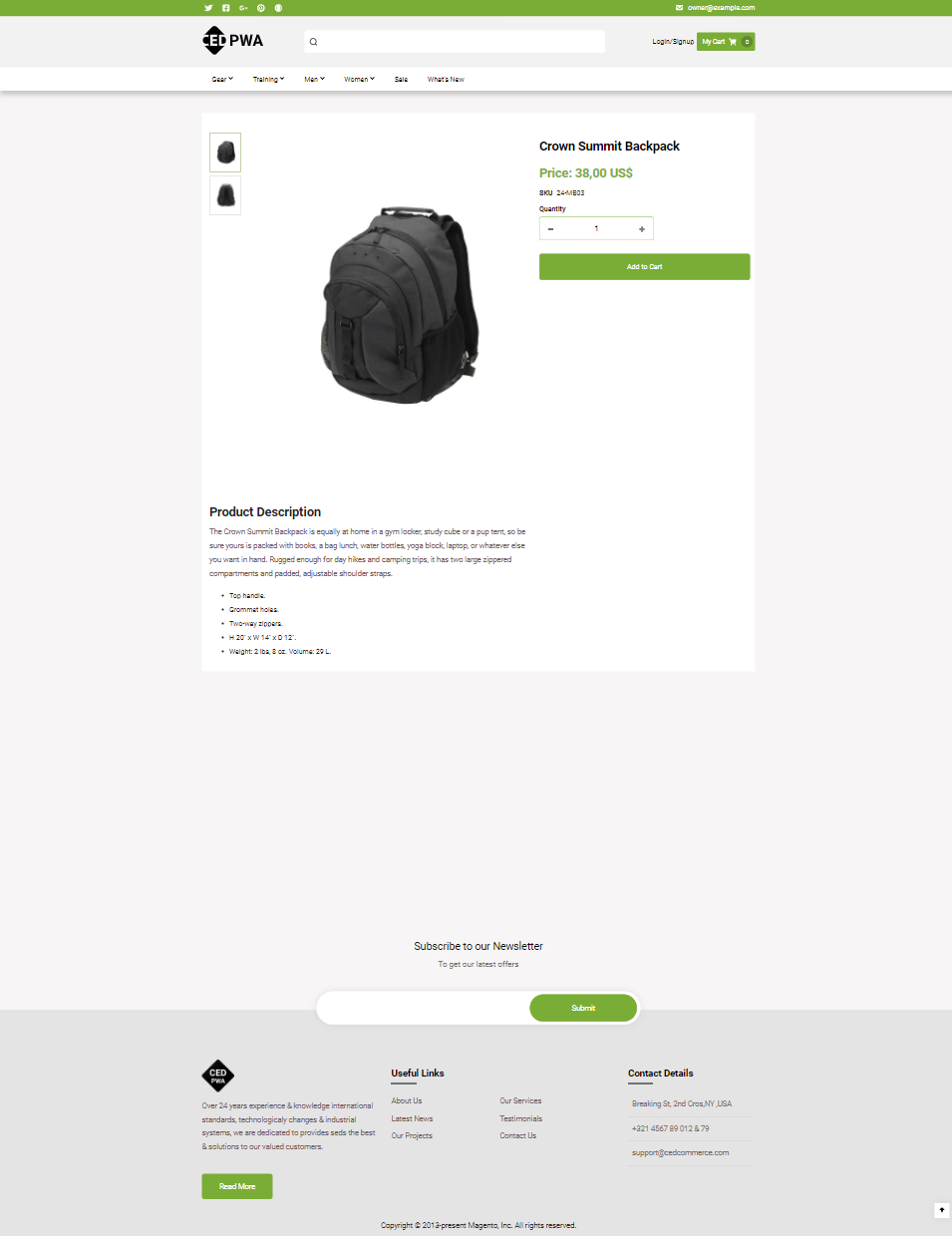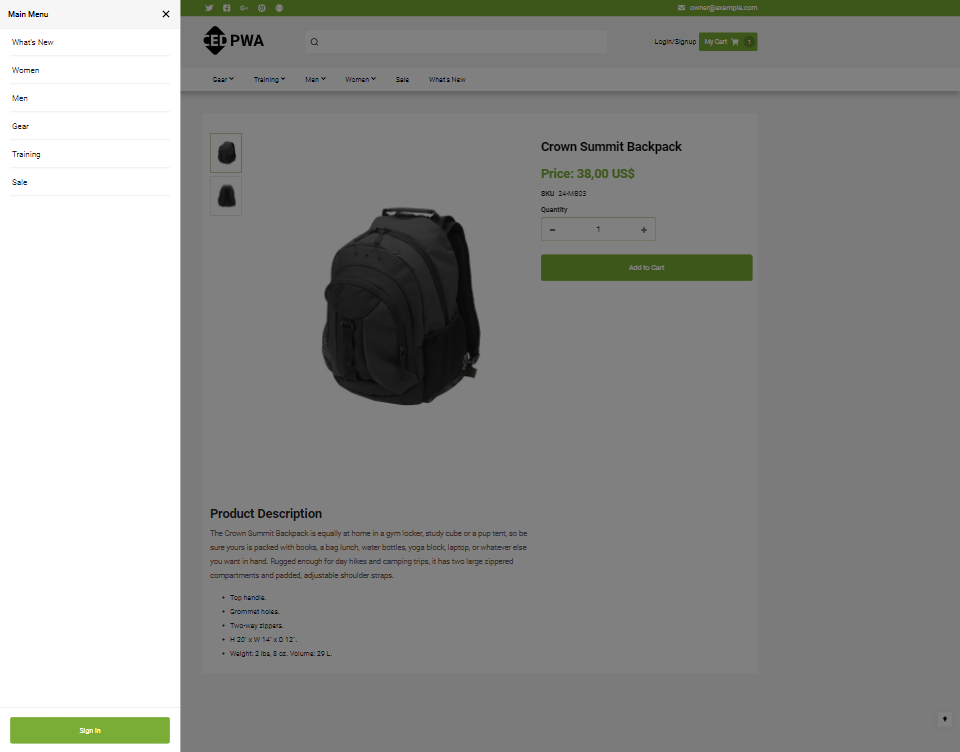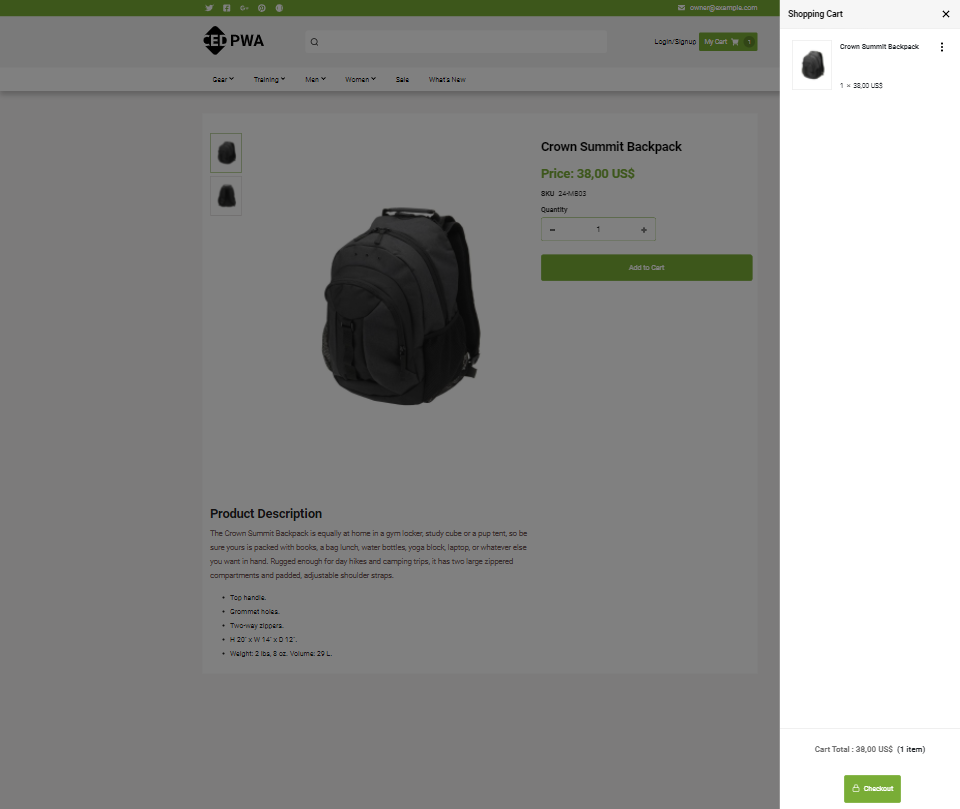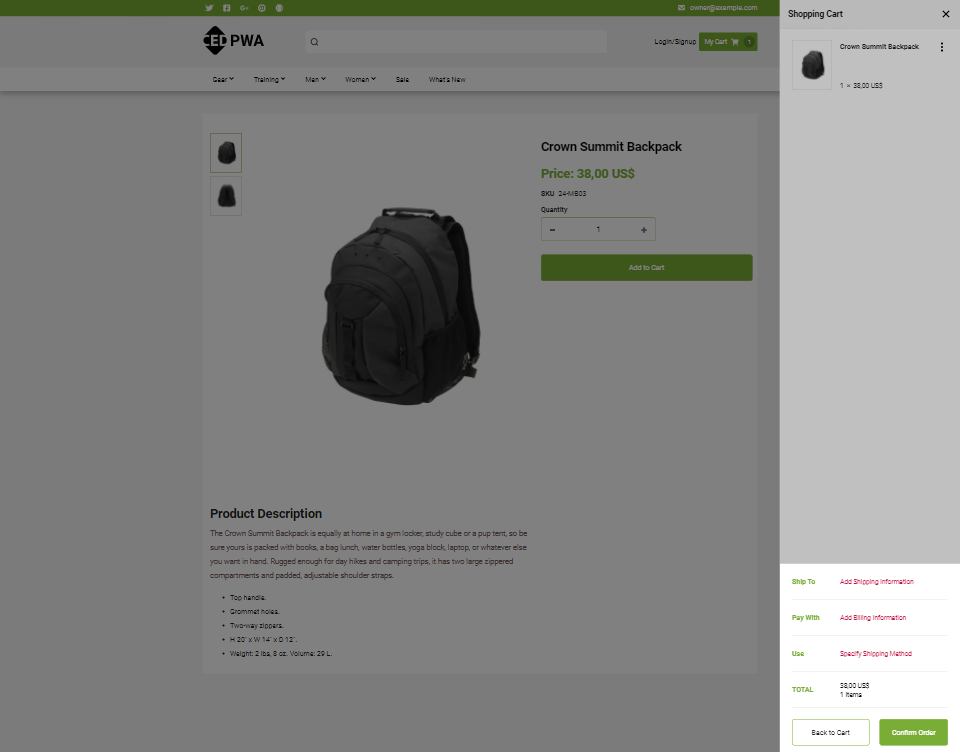 Mobile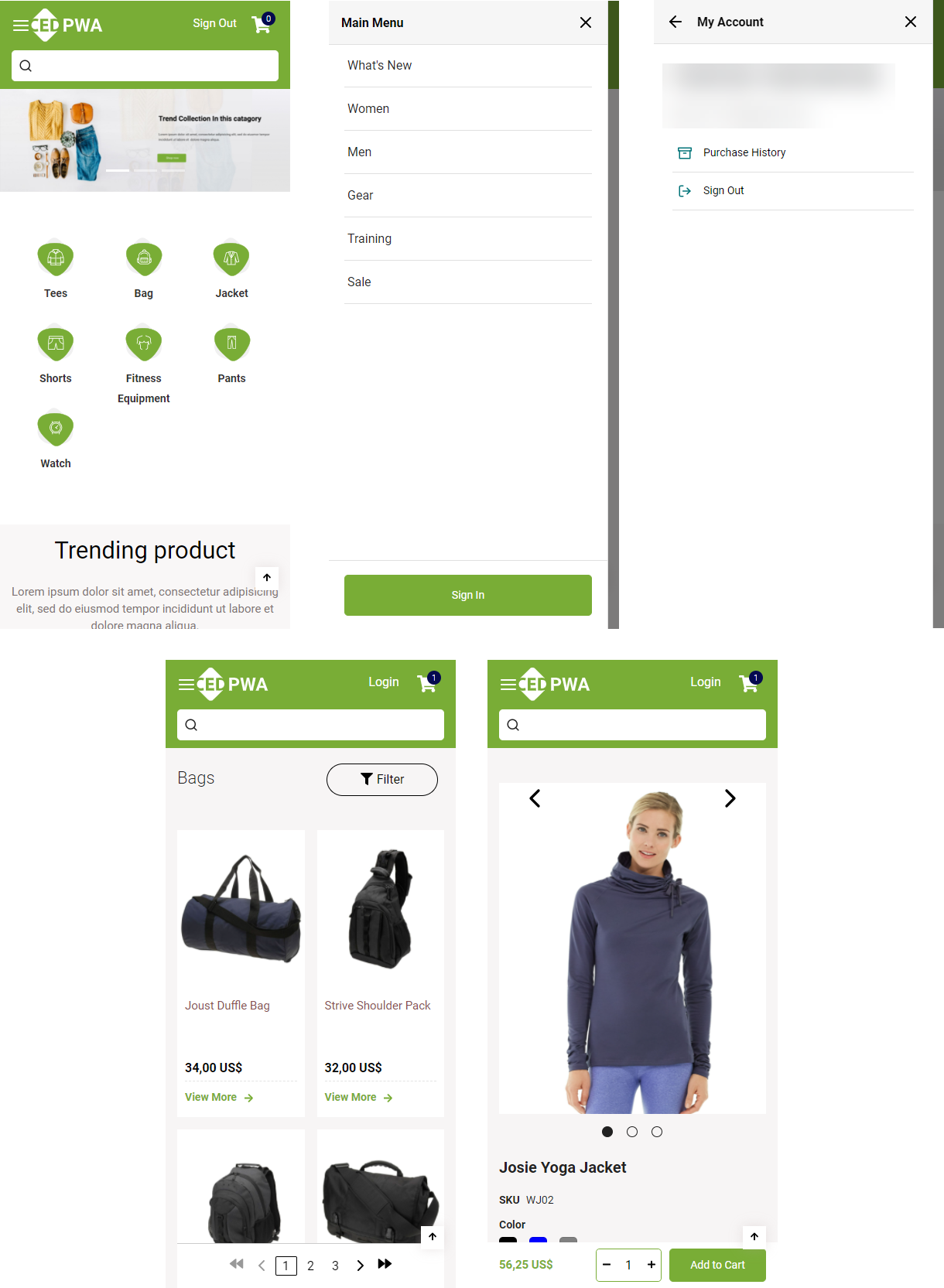 PWA Cenia Theme – Pro (With Reviews)
Desktop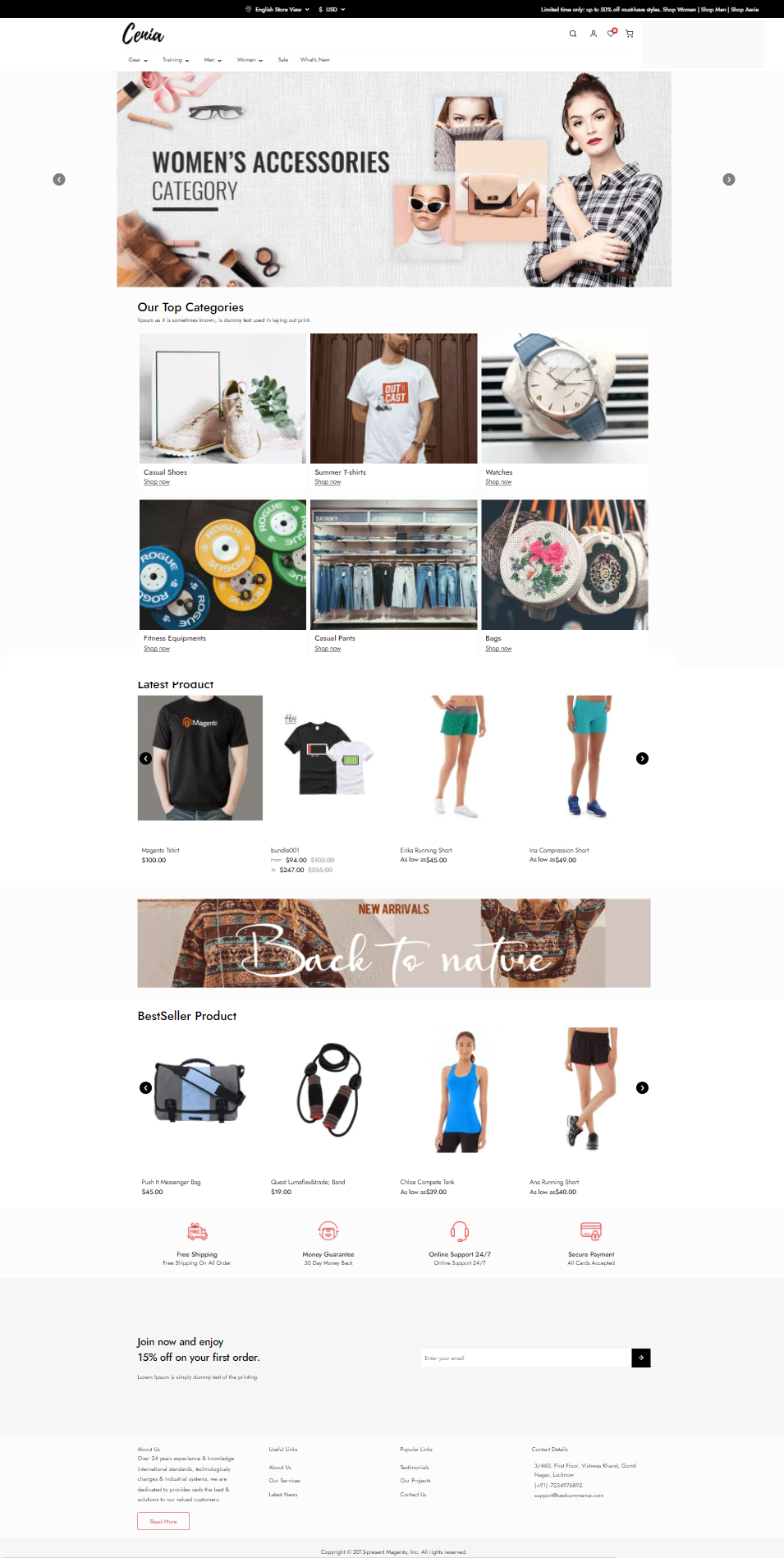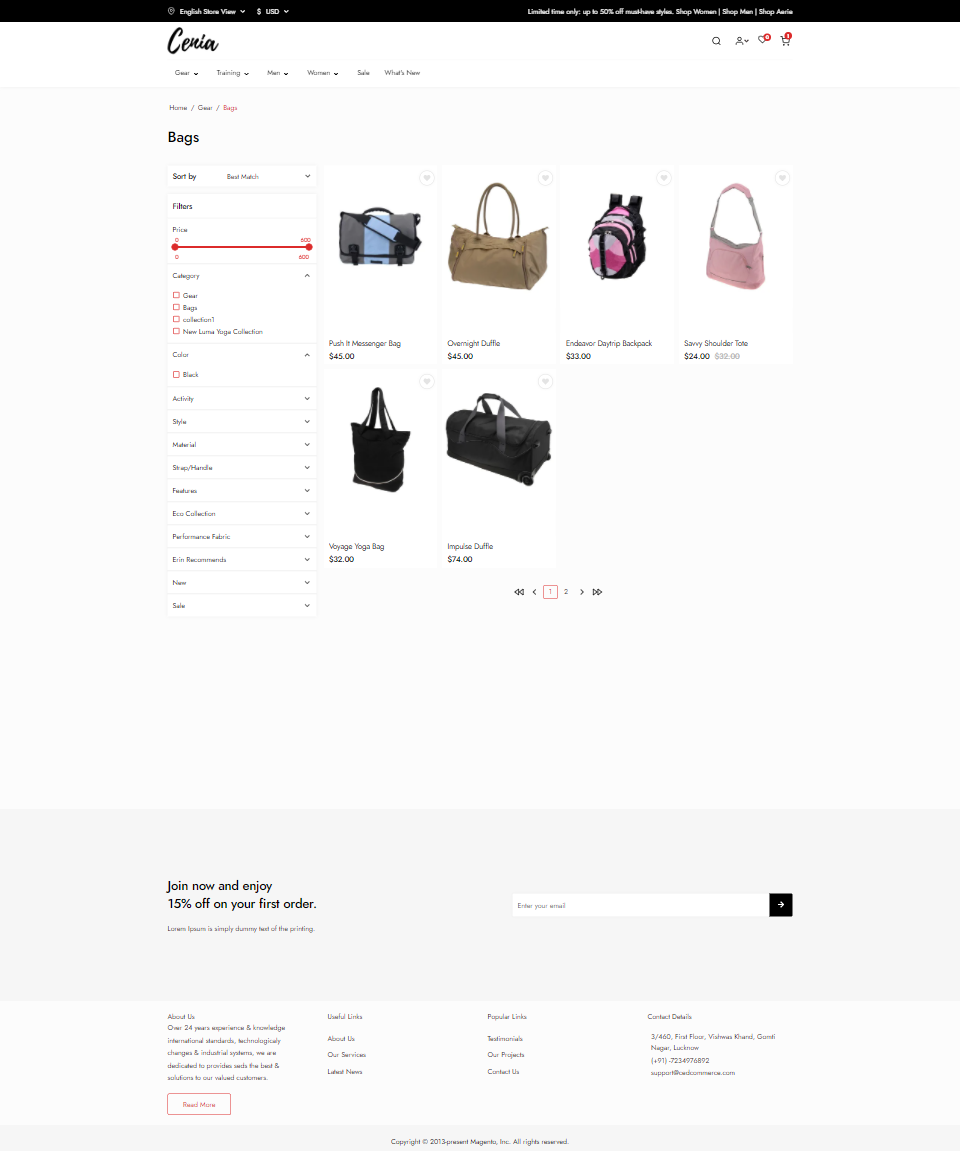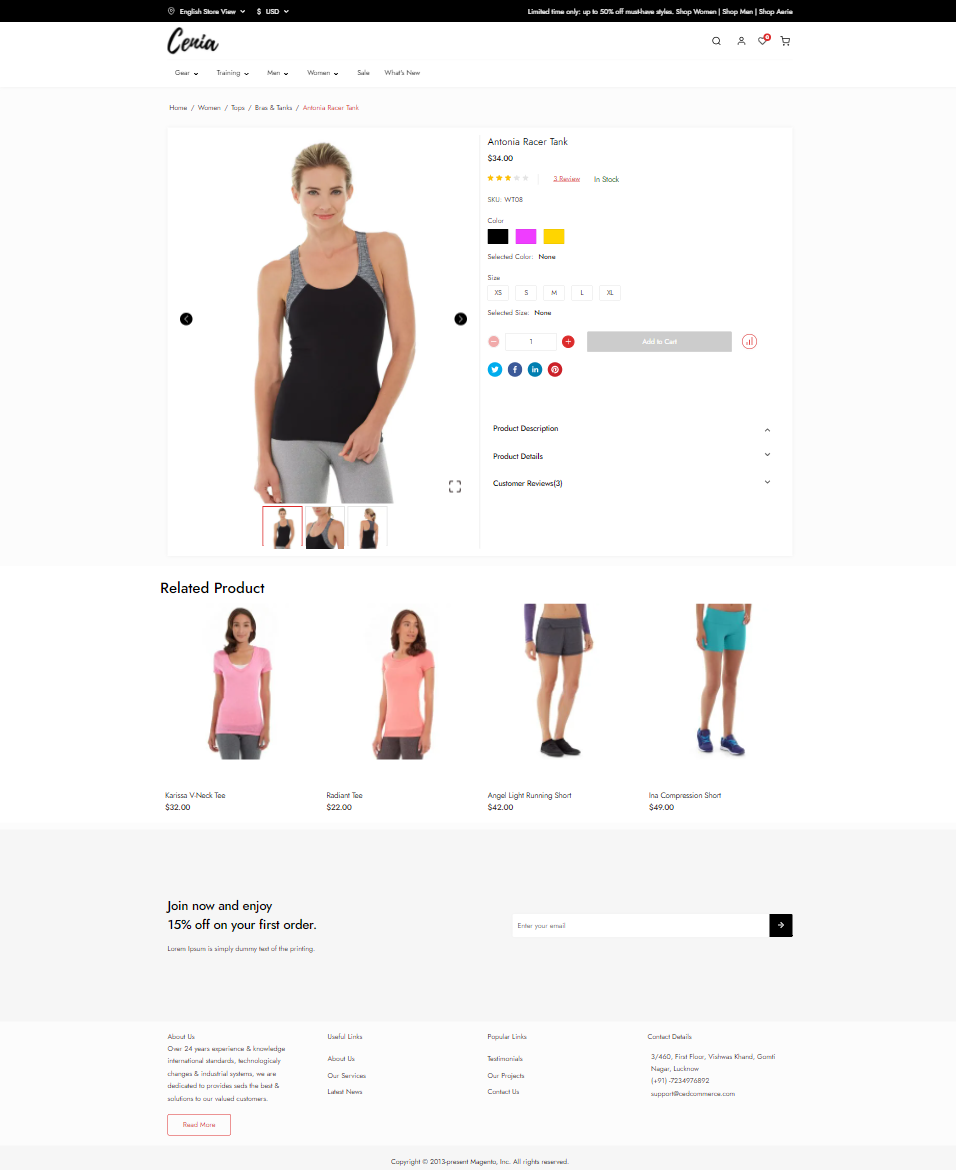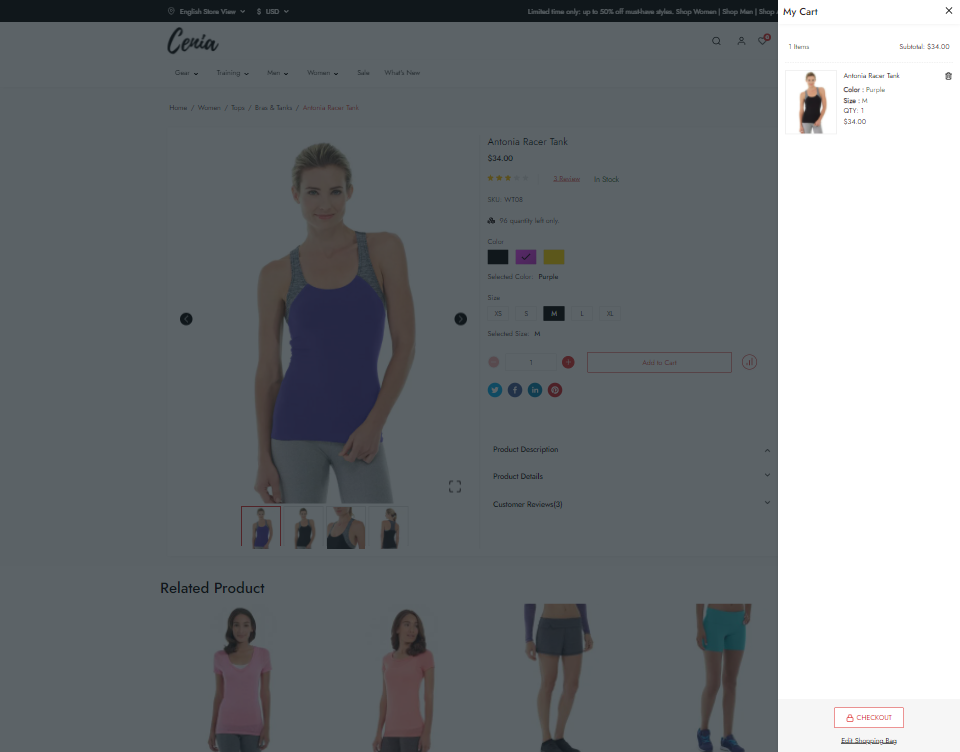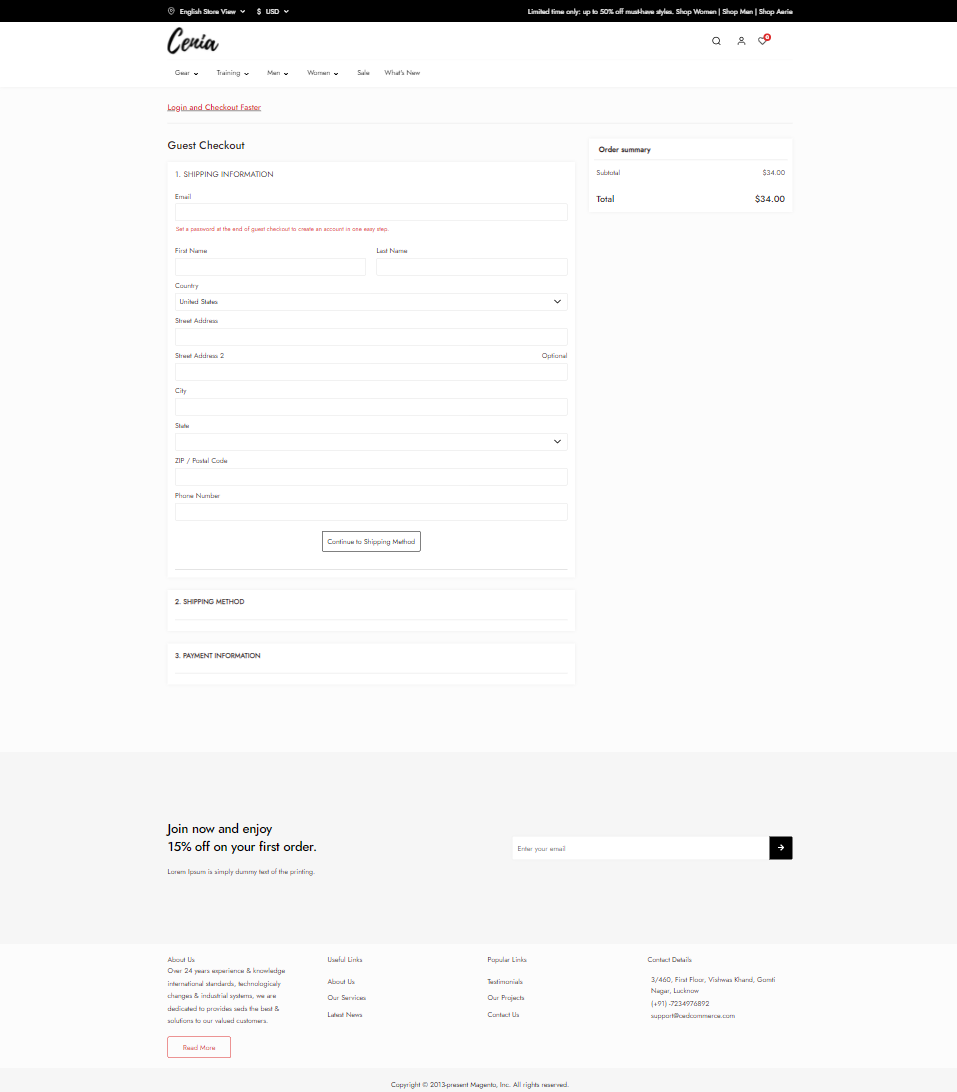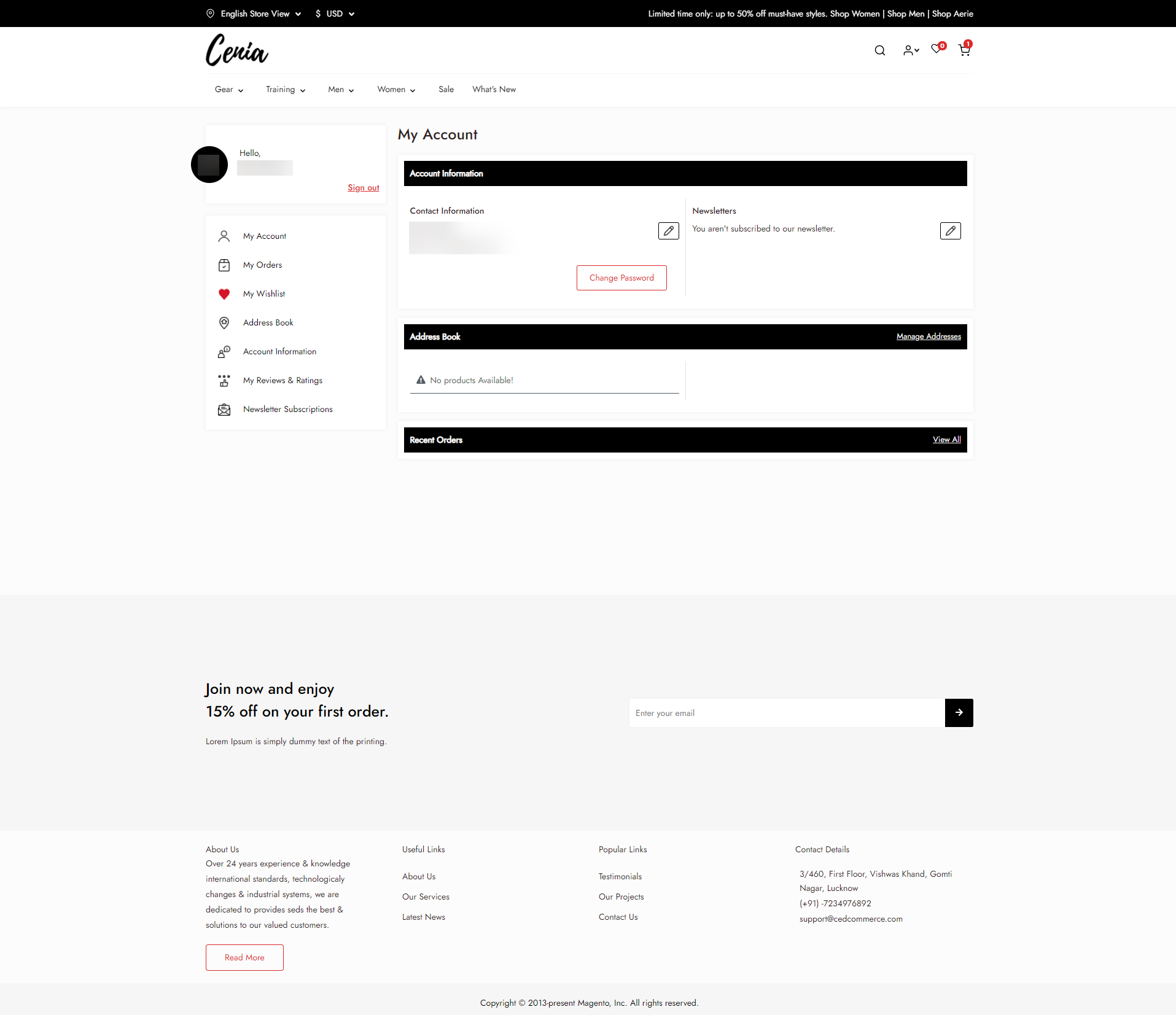 We can say that the storefront design of CedCommerce's Cenia PWA theme is pretty good at first look. The great layout is reflected through how pictures and text blocks are distributed on the home page. Additionally, the animation effect on the "Our Top Categories" block is nice and smooth.
However, it seems that they CedCommerce only takes care of the homepage. The remainings look boring and unnoticeable.
On the category page, when we select any filter option, both the filter column and product list are reloaded. In our opinion, the filter column should be fixed, only the product list is updated to enhance user experience.
On the product page, we cannot see the full picture of the product unless scrolling down, which is a minus point. Also, the wishlist icon should not be put on the product image. That icon position is only suitable for product lists or on mobile view.
Mobile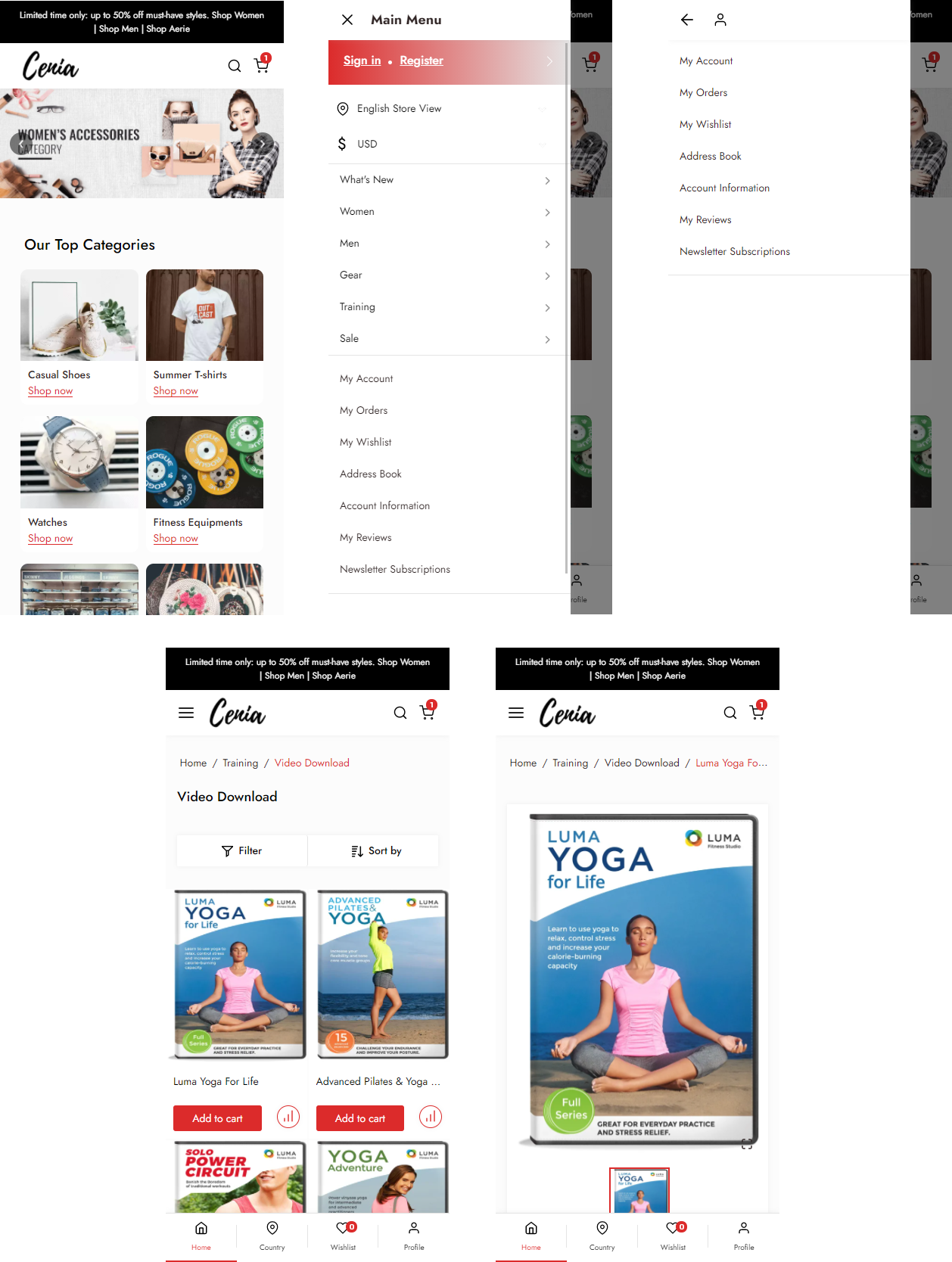 Compared to the desktop design, the mobile version seems to look better. As you can see, there is bottom navigation that makes the theme more mobile-friendly.
One of the things that need improvements is the main menu that should not include what belongs to the customer dashboard.
3. Functionality
As mentioned before, CedCommerce offers two PWA ready-to-use solutions: the PWA Cenia theme (free) and the PWA Cenia theme – Pro.
PWA Cenia theme
On top of PWA key features, the open-source Magento PWA theme from CedCommerce is equipped with simple eCommerce features. It has Banner Slider, Category Filters, Product Sliders, Newsletters Support, Forget Password Page, and more.
PWA Cenia theme – Pro
More eCommerce features come with this package, including My Account, Product Page Tabs, Related Products, Product Reviews, Customized Cart, One Page Checkout, Wishlist, etc.
Although these are "pro" features of the CedCommerce PWA theme, in some other themes for Magento that we have reviewed these are just provided by default. That's why we don't highly appreciate the functionality of this theme.
4. Costs
Theme
The PWA Cenia theme is free of charge. However, the premium package with more features besides the basic functions of a regular PWA and a better user experience will cost you $299.
For Magento Commerce edition, the cost is added by $200 ($400 in total).
Compared to other Magento PWA themes, CedCommerce theme's price is in the middle. However, we think that the pro version is still not worth its price. There are just an insignificant improvements between this theme and the default PWA theme of Magento (Venia). Moreover, some free PWA templates even can perform better than this one.
Installation
If you purchase the pro version of the theme, the CedCommerce team will support you in setting it up. No extra cost is required. 
Customization
The cost of customization is determined by the additional features you wish to include or change in the prebuilt theme. You will have to contact the team to get a specific quote.
5. Updates & Support
CedCommerce offers free support for three months and lifetime free updates.
6. Documentation
We have not found any documentation of the Cenia theme, just a short guide to Magento PWA.
7. Others
As it was built on PWA Studio, the CedCommerce PWA theme is only compatible with Magento 2.3 and above.
Besides, the company offers Magento 1 to Magento 2 migration service to help Magento 1store upgrade to the latest version of Magento 2 before integrating PWA.
Outstanding projects
CFM
Cloth Face Masks is founded by Minke Buikema with the aim of making wearing masks more comfortable by giving protective and fashionable masks.
CFM chose CedCommerce to build a PWA for their brand, which is demanded to be engaging and exceptionally fast while having the ability to add new features to the Magento eCommerce platform as needed and quick response time.
EthnicSmart
EthnicSmart is an Indian B2B multi-vendor marketplace that sells ethnic clothes at wholesale prices to other businesses.
Their biggest issue was low speed. That's why EthnicSmart chose PWA to make their business more engaging and dependable by allowing users to access the marketplace even when they are not connected to the internet.
Cedcommerce assisted them in meeting the requirements with the PWA Cenia theme – Pro. Within a few weeks of its launch, EthnicSmart PWA had gained over 19000 subscribers – a real success.
In Short
CedCommerce's PWA theme, overall, still needs significant enhancements to improve its design and make the theme work more efficiently. You can try its free version to understand more about how a Magento PWA work. However, if you want to buy the pro one, let's consider carefully since it will need heavy customization to be in use. What do you think about this readymade theme?
CedCommerce PWA Theme For Magento Review