Due to the rapid advancement of technology, Progressive Web App (PWA) is becoming more popular among Magento stores. This fact leads to increasing demand for PWA integration services. In response to the current trend, Tigren came up with a more convenient way for PWA integration: TigrenPWA theme. This is a ready-to-use PWA template that was geared towards Magento 2 websites only.
Before we go any further with the features and storefront design of TigrenPWA, let's explore its demo here.
About Tigren Company
Tigren was established in 2012 and is currently a professional in Magento website design and development. It is also one of the leading Magento 2 PWA research and development firms.
The company offers businesses Magento-related services such as website development and optimization or Magento 2 migration. Since 2017, it has started to provide PWA development services.
With 9 years of experience building Magento stores and 4 years of experience in Magento PWA development, Tigren has reached a high level of competence in its PWA integration service for Magento merchants.
Tigren has earned a reputation as a PWA provider with many successful big and small projects, thanks to high-quality solutions.
TigrenPWA Theme For Magento 2
1. Technology
TigrenPWA is a Magento 2 PWA theme built using Magento PWA Studio, React.JS, and GraphQL.
Magento PWA Studio
There are two types of Magento PWA themes, including themes with a Magento PWA Studio base and themes that do not. TigrenPWA belongs to the first group, which has a clear benefit because it will get stronger with Magento's development.
Like other themes built on PWA Studio, the TigrenPWA theme will be updated every time Magento and PWA Studio are updated.
React.JS
With React, your web apps will continue to operate while you make changes to them at runtime, thanks to its virtual memory. The faster rendering speed of React minimizes the time it takes for a page to load.
In addition, your content on React-powered web pages will be properly indexed thanks to its virtual memory. As a result, being built with React, TigrenPWA will give you a PWA site that is stable, fast-loading, and more SEO-friendly.
GraphQL
In comparison with REST, multiple queries (APIs) can be made in a single call with GraphQL. Thus, overall, it is more flexible than the counterpart, making TigrenPWA perform better than themes built with REST.
2. Design
Desktop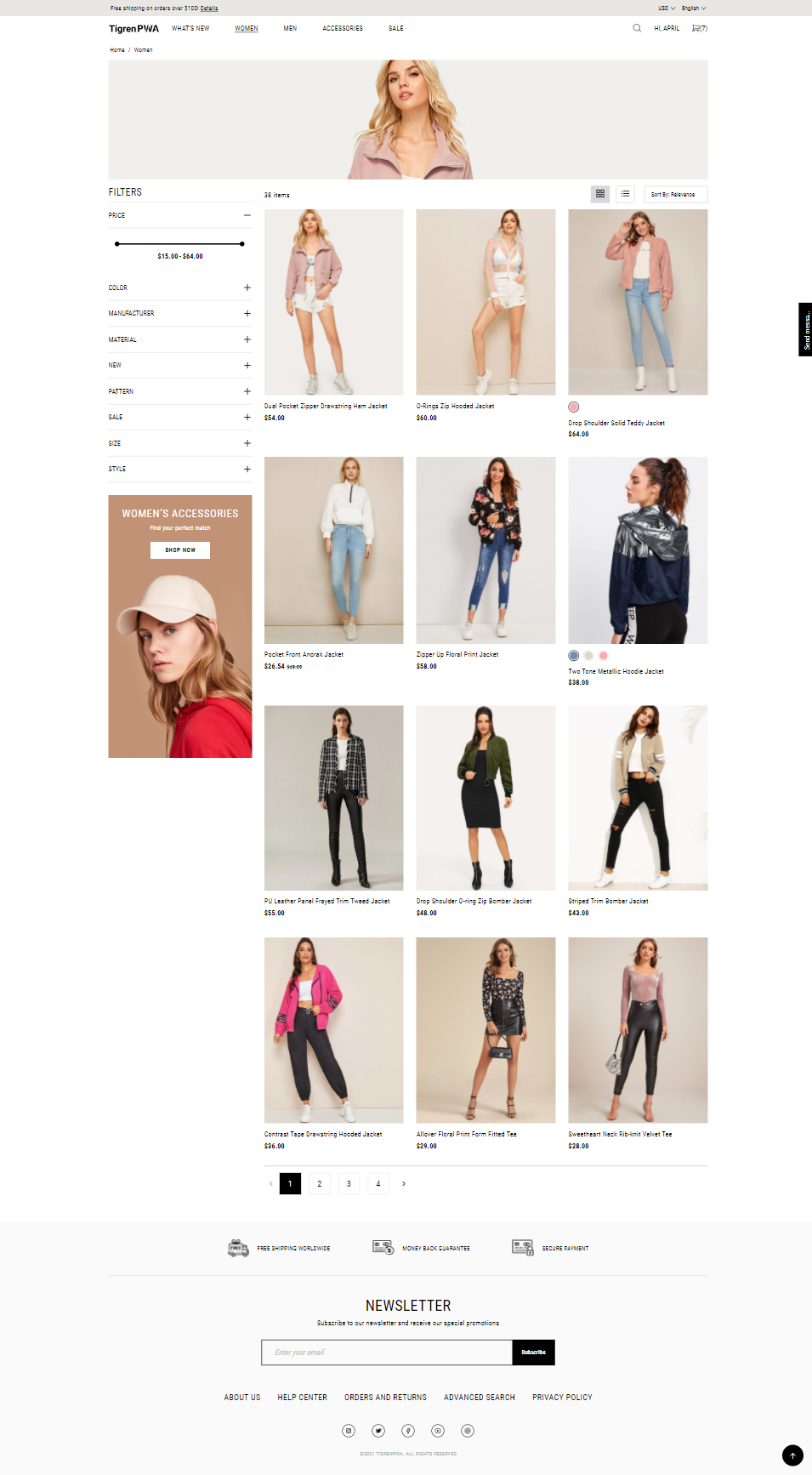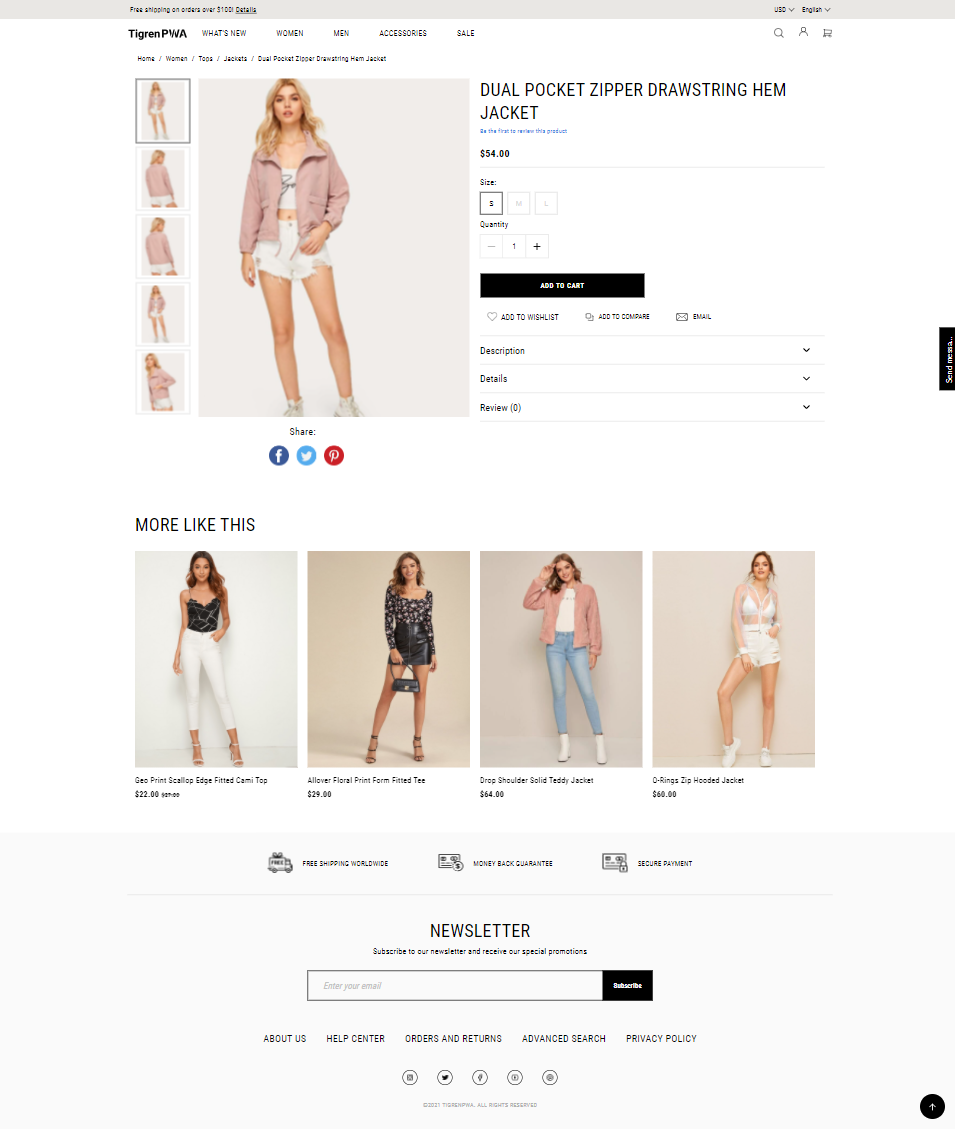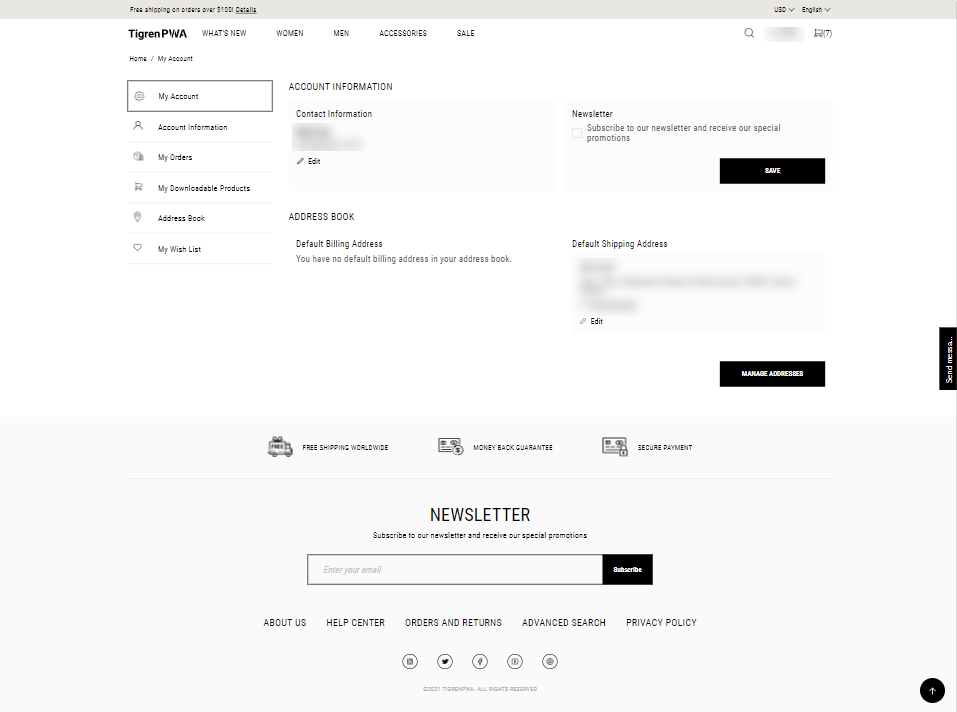 Concerning aesthetic and practical storefront design, hardly any theme can surpass TigrenPWA.
It has a wide range of trendy designs for your store. No matter you sell clothes or housewares, as long as you want, you will find a suitable design.
Overall, TigrenPWA's storefront designs adhere to five key design principles: simplicity, consistency, readability, mobile-friendliness, and ease of navigation.
For instance, following the eCommerce site design trend, it has a full-width banner slider. The banner title, buttons, and photos are all enhanced with special effects.
Each design in the theme's library is ready to use, meaning that you need to make some changes in the color palette, fonts, banners, logo, and favicon. Currently, its built-in Banner Manager plugin allows you to change the banners on the backend easily.
Mobile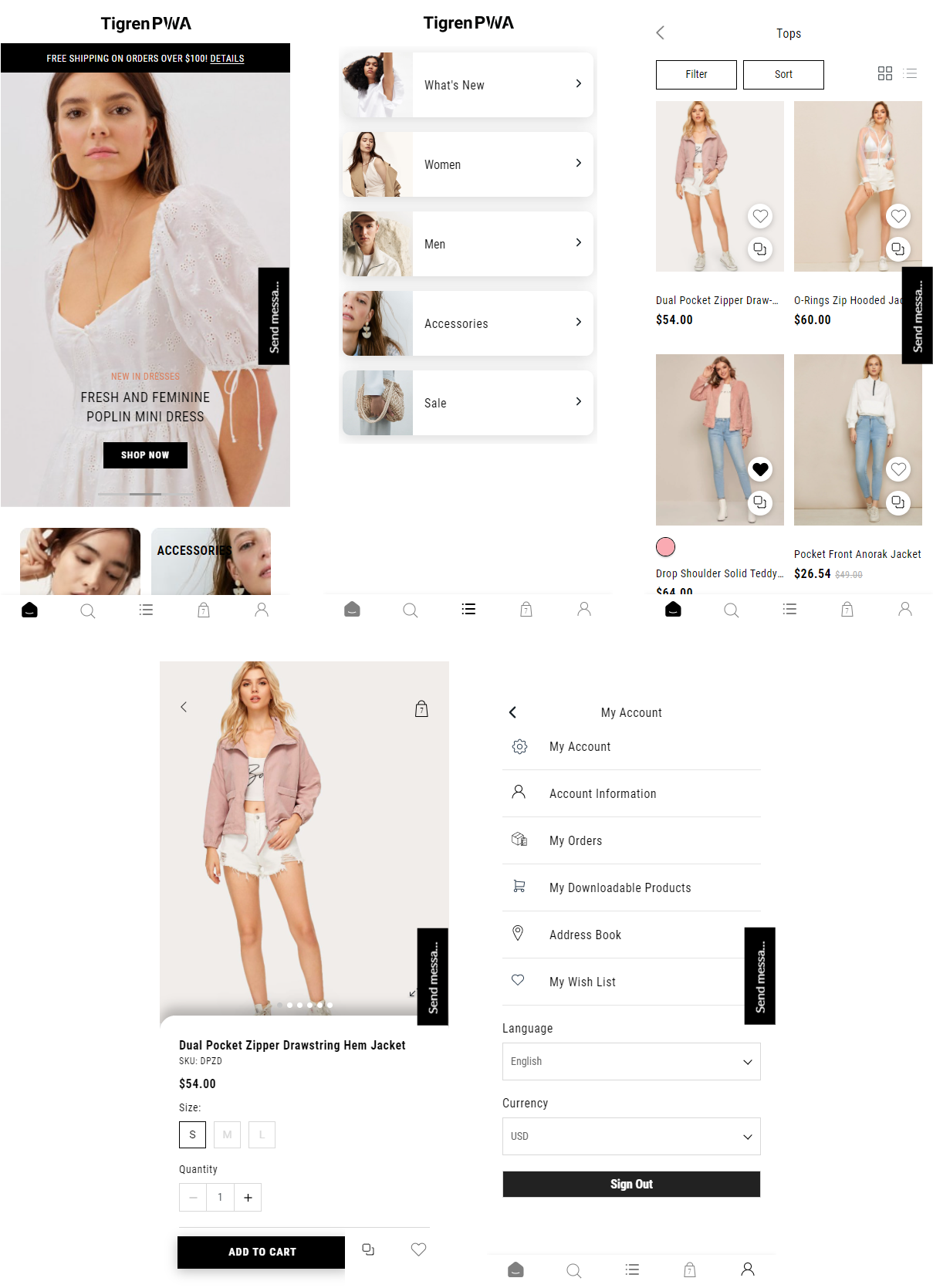 TigrenPWA provides a separate design for mobile devices that reaches an optimal level of mobile-friendliness. The theme appears more like a native app with the bottom navigation.
Also, the mobile version has a no-results page that has been thoughtfully developed. It displays a search bar to encourage users to try to reconnect when the connection is poor.
Thus, with TigrenPWA, merchants may create a flawless brand identity design for their company with minor adjustments.
Apart from it, a new PWA storefront for technology sites by TigrenPWA is coming soon. However, its demo is unavailable (just Figma design), so we will temporarily exclude it from this review.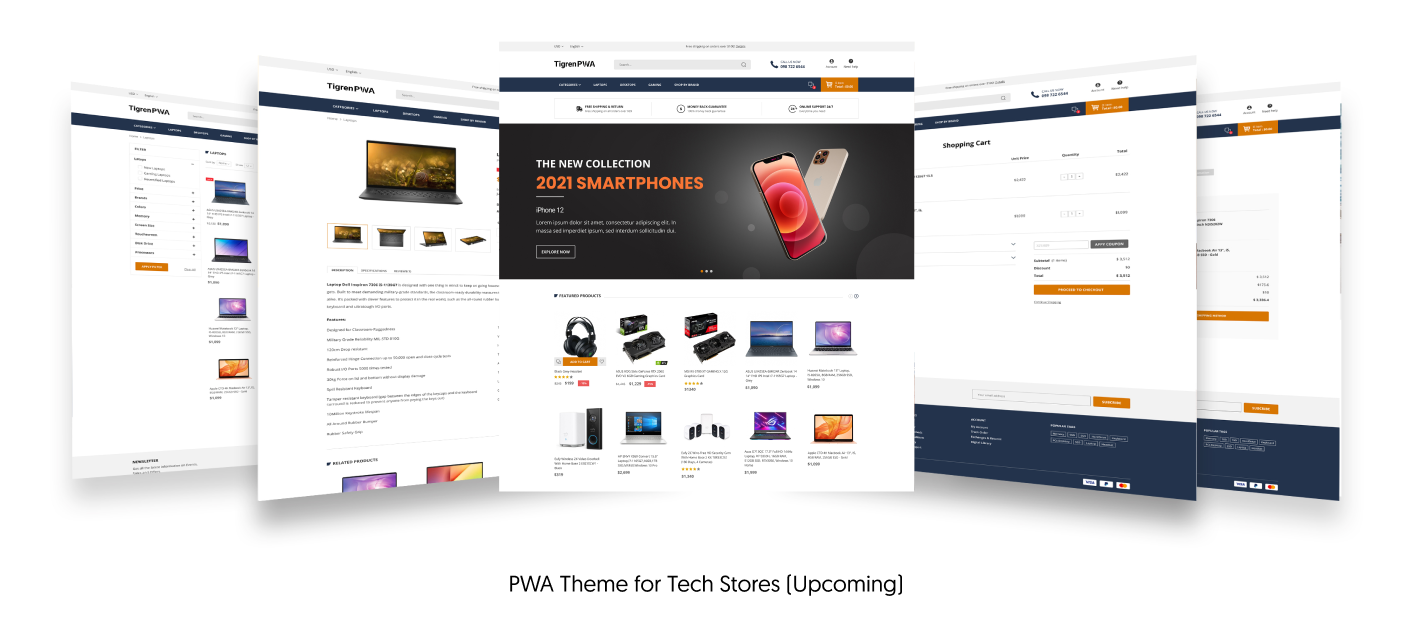 3. Functionality
Underneath a well-designed, polished, and attractive store interface, the TigrenPWA theme offers all the necessary functionalities.
Basic
TigrenPWA theme is equipped with the full functions of a standard PWA and a standard Magento website. It can provide you with everything you want from a PWA, including an app-like experience, lightning page load speed, A2HS, offline mode, minimum data consumption, push notifications, and more.
It is totally compatible with Magento 2, unlike other Magento PWA themes. As a result, after converting your website to PWA, you will still find it simple to administer your storefront with Magento default functions (Catalog management, Catalog browsing, Product browsing, Promotion & pricing, etc.)
Advanced
Knowing that Magento stores require more than what Magento offers by default, TigrenPWA provides a wide range of modern features to improve the site's performance and user experience without Magento extensions. For example:
Banner manager
Improved layered navigation
Live chat (by Tawk.to)
Social share
Instagram feed
Fastly CDN
More features are coming, such as shop by brand, product labels, improved sorting, mega menu, social login, Google tool integration (Analytics and Tag Manager).
More surprisingly, there are premium add-ons that are on the horizon, such as one-step checkout, PWA for Magento multi-vendor marketplace, or PWA for B2B.
It's obvious that the number of built-in features provided by the TigrenPWA is greater than any other theme on the market.
4. Costs
Theme
The TigrenPWA theme's package includes all core features of a Magento store and PWA, several advanced built-in features, and exquisite designs from Tigren, not to mention an installation service.
Because each eCommerce site offers different gateways, some premium payment gateway add-ons (apart from PayPal) are not included in the price.
Installation
Before choosing this theme, you should note that it requires expert developers to set up due to the complexity surrounding its various powerful functions.
That's why you need Tigren's team, who knows best about this theme, to install and configure it for your Magento store.
Don't worry! The TigrenPWA package always accompanies the installation service. This is a huge advantage as the cost for setting up is often highly charged by other theme providers.
Customization
Many factors determine the cost of converting a Magento website to a PWA, and customization is one of them.
If you wish to change the default design or functions of the TigrenPWA theme to match your store concept, you'll have to pay more. The expense for this depends on how high your demand is.
Moreover, since Tigren is an Asia-based company, it offers a more reasonable cost than other theme providers from the Western world.
As you can see, TigrenPWA is one of the most cost-effective solutions with guaranteed outcomes.
5. Updates & Support
Updates
You also do not have to worry about PWA updates when using this theme. As stated above, because TigrenPWA is built from PWA Studio, every time the Magento platform is updated, your Magento PWA will be updated as well.
When the new updated version is available, your customers will receive a newsletter to download the latest version. This is not time-consuming at all and can be done in the blink of an eye.
Support
In terms of post-installation support, Tigren provides 3 months of support if you purchase the TigrenPWA theme.
Tigren offers various options of contacting, including email, phone call, or live chat. You can choose your method of preference depending on the severity of your issues. The company commits that their technical support staff will respond within 24 hours or sooner.
6. Documentation
Detailed documentation provided by TigrenPWA helps us understand how to install, configure, and customize the storefront. Furthermore, we can find the list of Magento core features that are supported already or in progress.
7. Others
Compatibility
TigrenPWA Magento PWA theme is compatible with Magento 2.3.x – 2.4.x and a number of popular third-party Magento 2 extensions. Even so, we suggest that you should double-check with the company to ensure that your extensions are supported.
In fact, not only Magento extensions but your website's bespoke functions also may become useless after PWA integration.
In this case, Tigren will help to keep them usable either by creating more APIs to connect them with the PWA storefront or developing similar capabilities on the PWA.
Extra services
With a PWA Studio base, TigrenPWA can only serve sites that are Magento 2.3 and above. The reason is that Magento 1 will cease to be supported in June 2020.
Therefore, if your store is Magento 1, Tigren may help with their Magento 2 Migration service. Although it will cost you a certain amount of money, this is still convenient as the company gives you all you look for.
Outstanding Projects
Boonthavorn
Being in operation since 1977, Boonthavorn has become a well-known Thai interior furniture business.
After being converted to a fantastic PWA with TigrenPWA theme, Boonthavorn's site now delivers a better user experience while keeping many of the old site's features (improved sorting, layered navigation, product labeling, related products automatic display, social login, etc.)
ShopEddies
This is a US online store established in 2012 that sells automobiles, trucks, RVs, and power sport vehicles. They have given up to one million items across various marketplaces, primarily in the United States and Canada.
Recognizing the enormous potential of PWA, ShopEddies decided to use TigrenPWA to convert their Magento 2 website into a fantastic PWA.
Truclothing
This is a UK company established in 2010 specializing in elegant and trendy suits for both men and women. So far, it has had more than 30 stores across the UK.
Truclothing now has a sleek and modern style, improved with excellent PWA features while retaining all of the website's original capabilities, thanks to the TigrenPWA theme.
In A Nutshell
TigrenPWA theme is cost-effective, time-saving, and suitable for any Magento store regardless of scale and industry.
With robust built-in features, it is no exaggeration to say that TigrenPWA can be a potential candidate for a leading PWA theme position in the near future.
TigrenPWA Theme For Magento Review