With merchant expansion, eCommerce platforms like Magento were unable to meet the brand's needs, and it became more difficult to develop functionality to keep up with this growth. Thus, Front-Commerce chooses to go for headless commerce with PWA technology by launching their own PWA theme.
Take your first step with its Magento 2 PWA theme demo here, and you will fully understand what we are going to discuss below.
About Front-Commerce Company
FrontCommerce was founded in 2006 in France specializes in web development for eCommerce stores. Currently, their focus is on the PWA stream and micro-services architecture.
Their PWA theme product won two awards from FinancesOnline in 2019 that are Rising Star and Premium Usability.
Front-Commerce's Magento PWA Theme
The idea of the Front-Commerce PWA theme was initiated in 2015 and was introduced in early 2018. It is currently compatible with Magento 1 and 2 as well as OroCommerce, SFCC, with more platforms on the way.
1. Technology
React.JS
Storyshots are used to assess the structural integrity of React components included in the design system.
GraphQL
The GraphQL layer in Front-Commerce connects your eCommerce PWA to your services. It combines all of your company's data sources into a single data graph.
Adding a GraphQL layer is a consistent way to get data from your current data sources. This helps you to gradually incorporate suitable headless platforms without having to re-platform or restrict your site performance.
Node.JS
Front-Commerce is a Node.js server that provides your customers with a GraphQL endpoint and a React application.
Actually, we prefer PWA Studio-based themes rather than non-PWA Studio ones since we are reviewing Progressive Web App themes for Magento only. Therefore, from our perspective, Front-Commerce does not gain a high score in terms of the underlying technologies.
2. Design
Desktop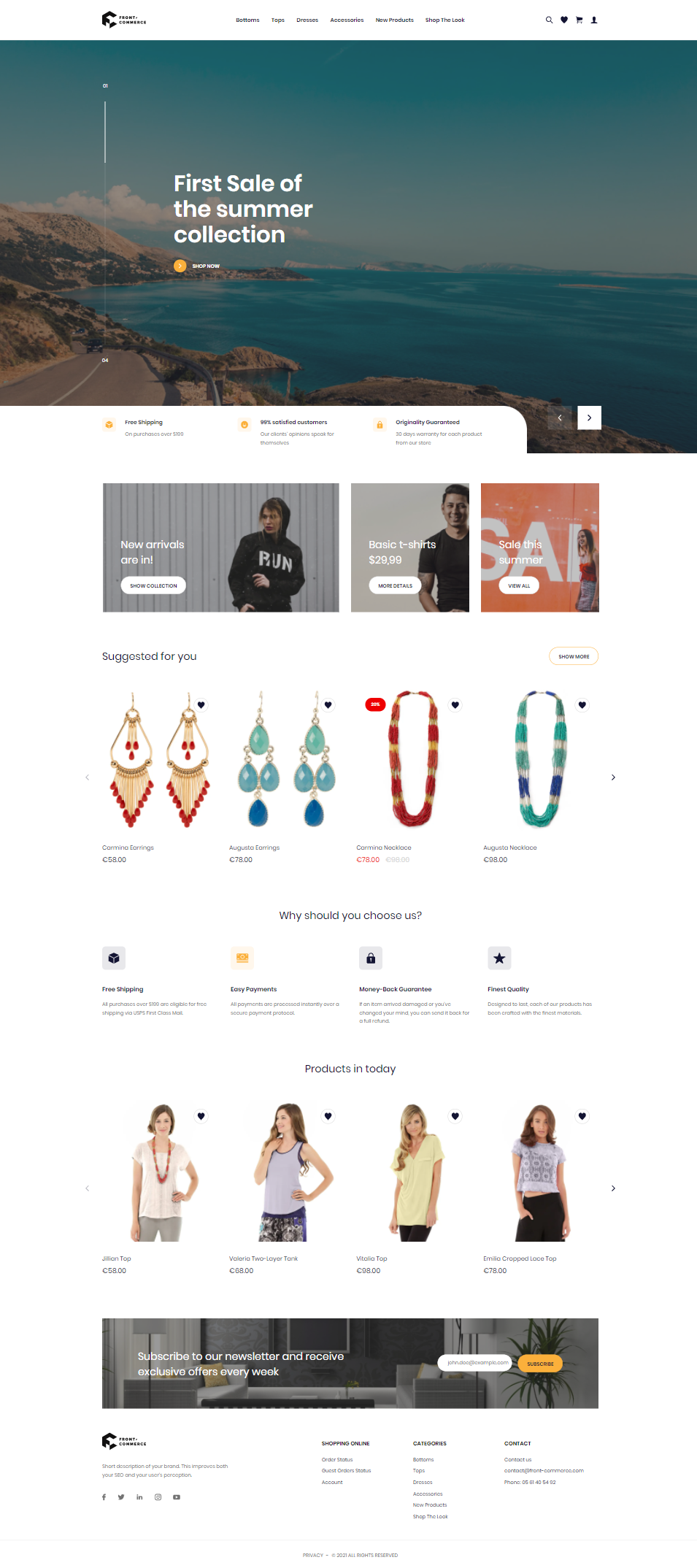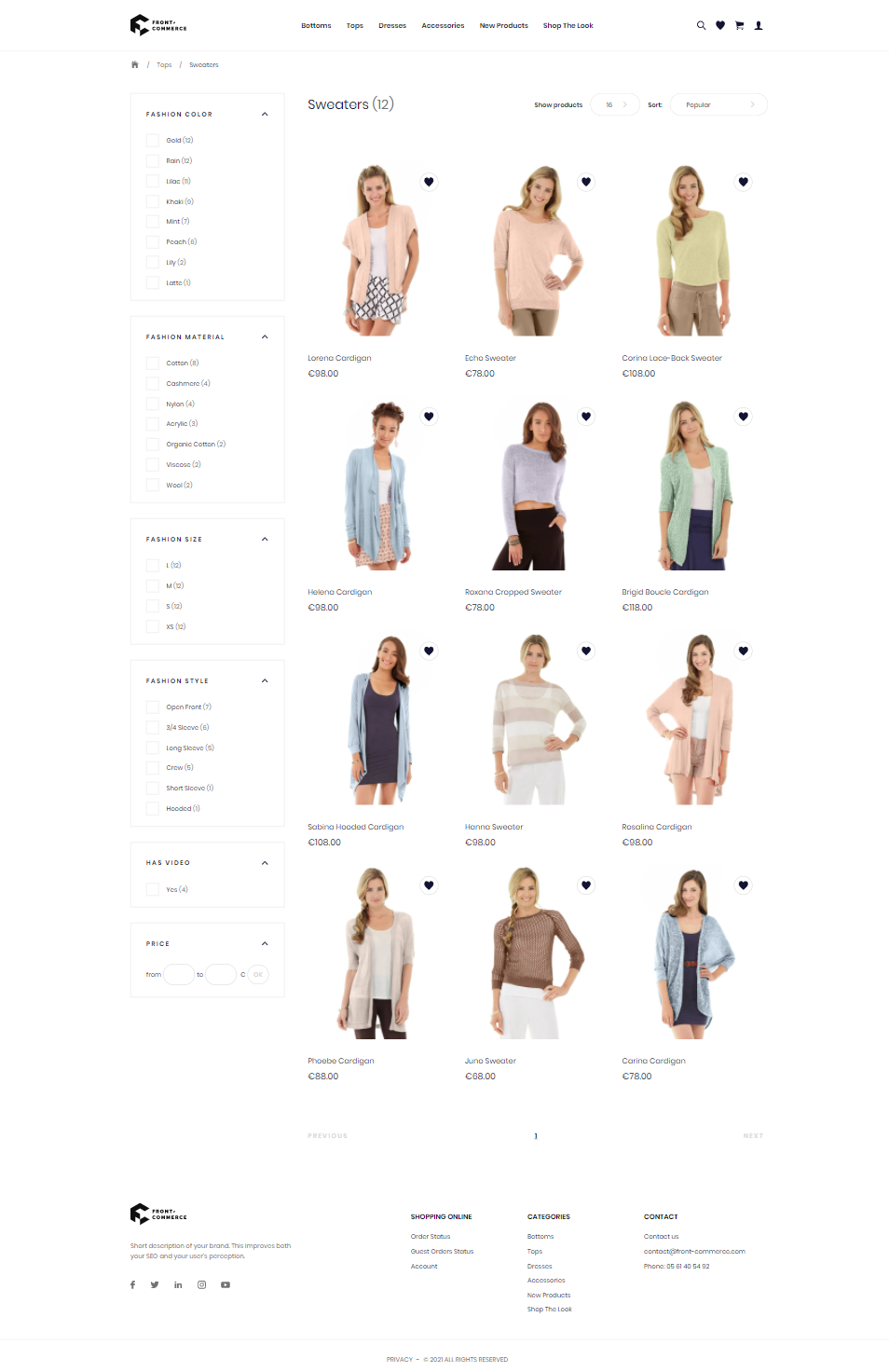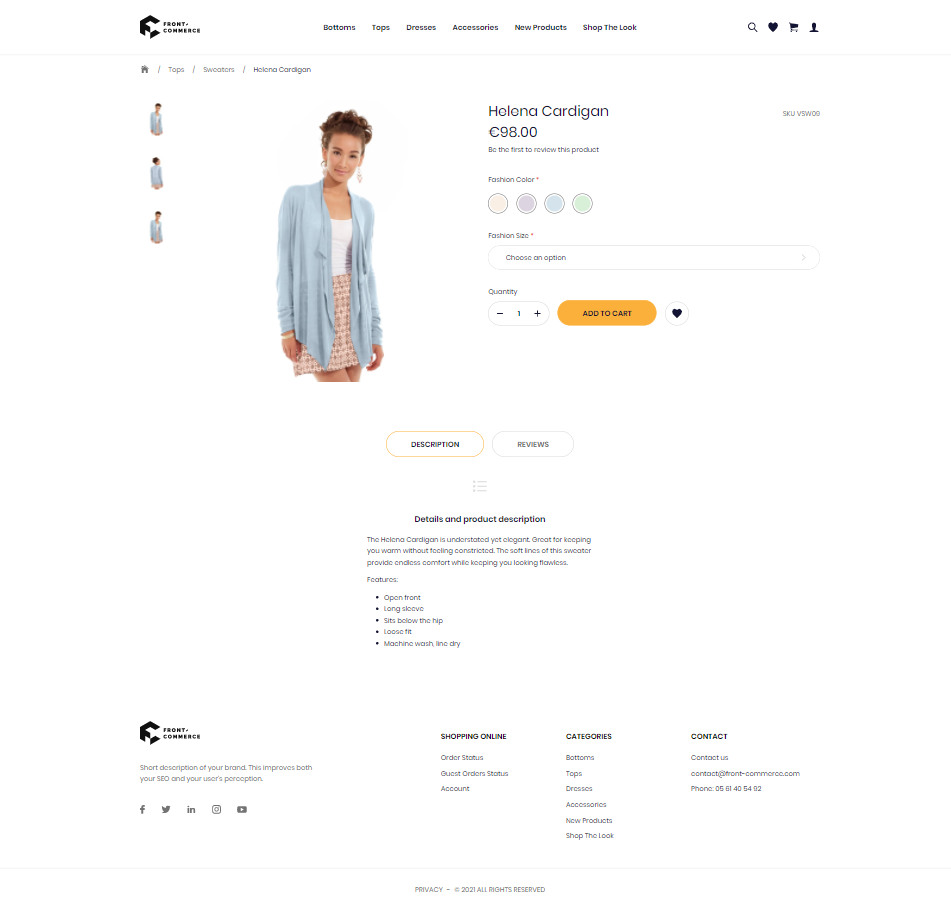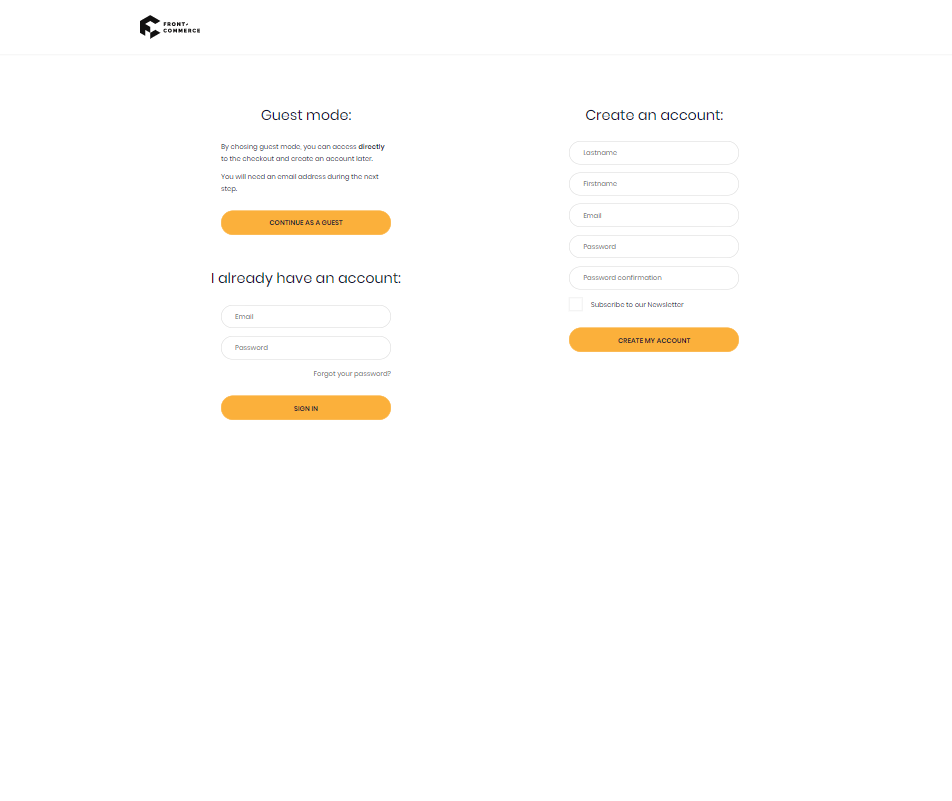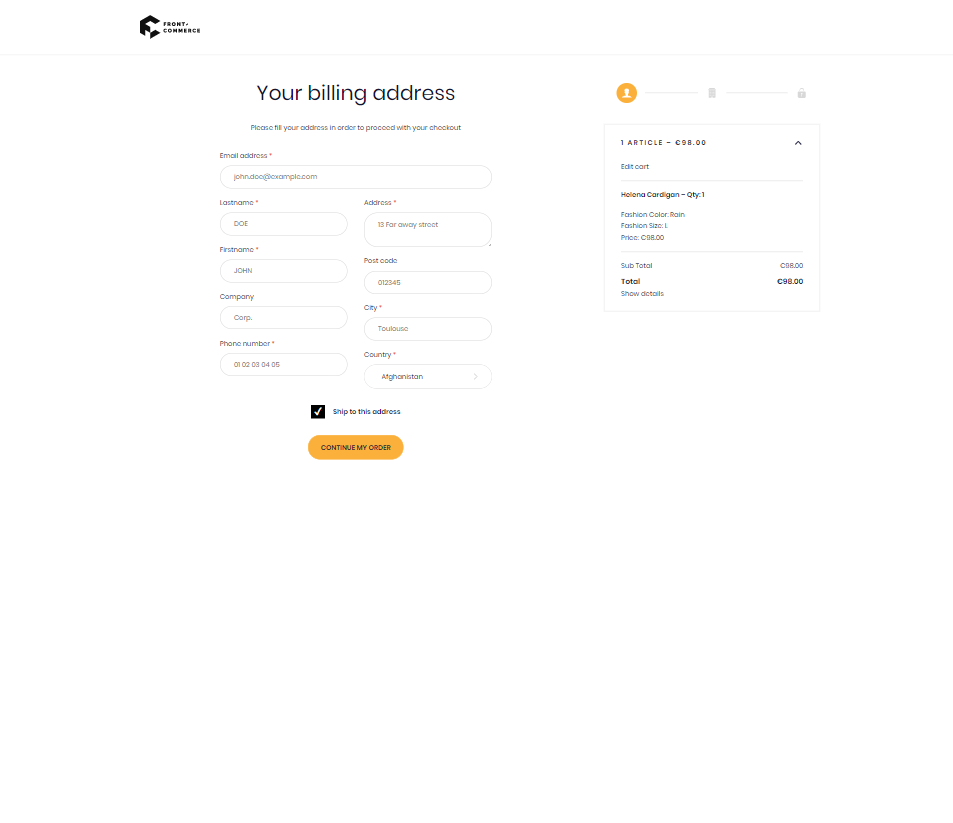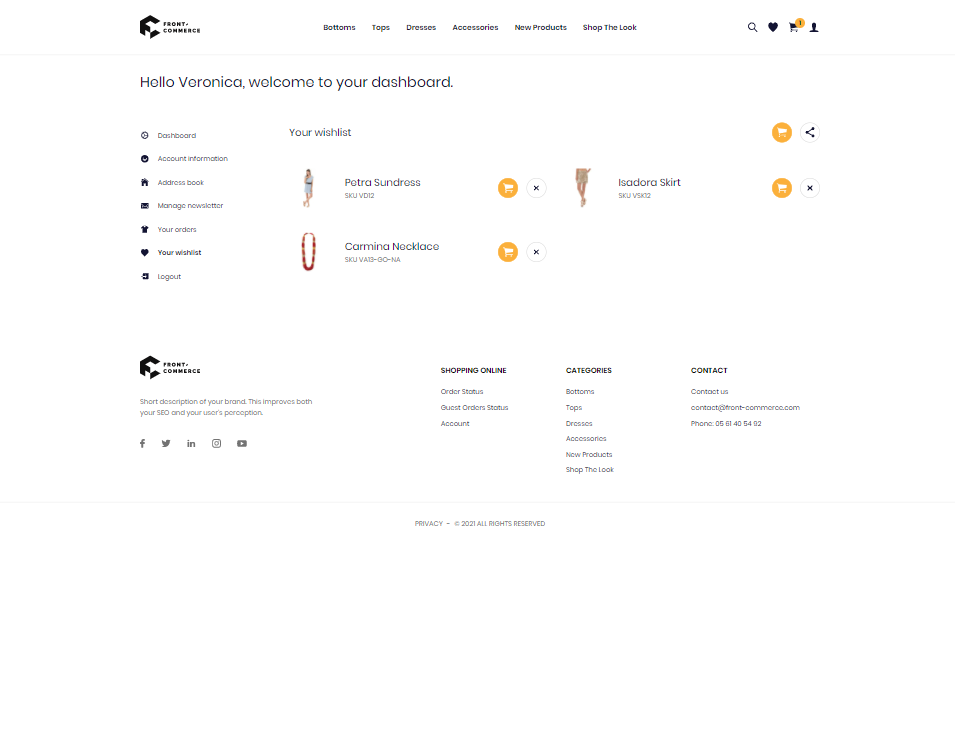 Overall, the design of the Front-Commerce PWA theme is simple and clean. It can be easily applied to a real store.
The content is displayed in a well-designed layout with proper font and image sizes on the homepage. We like the cut-out of the banner slider to show highlights of the site (free shipping, warranty…), which is useful to hold customers' attraction.
Moving on to the category page, there are several things that the theme should improve. For example, the layered navigation had better show a color swatch and price slider. Besides, there is a lack of "add to compare" features.
The product page is probably the worst page of the theme, it's quite boring. The Description and Review block is aligned center, which looks awkward.
Next, we have a "love-hate relationship" with the layout of the checkout page. It's different from the regular checkout flow of Magento. Therefore, on the one hand, it is unique and interesting. On the other hand, it's unfamiliar so some people might dislike the new layout.
Mobile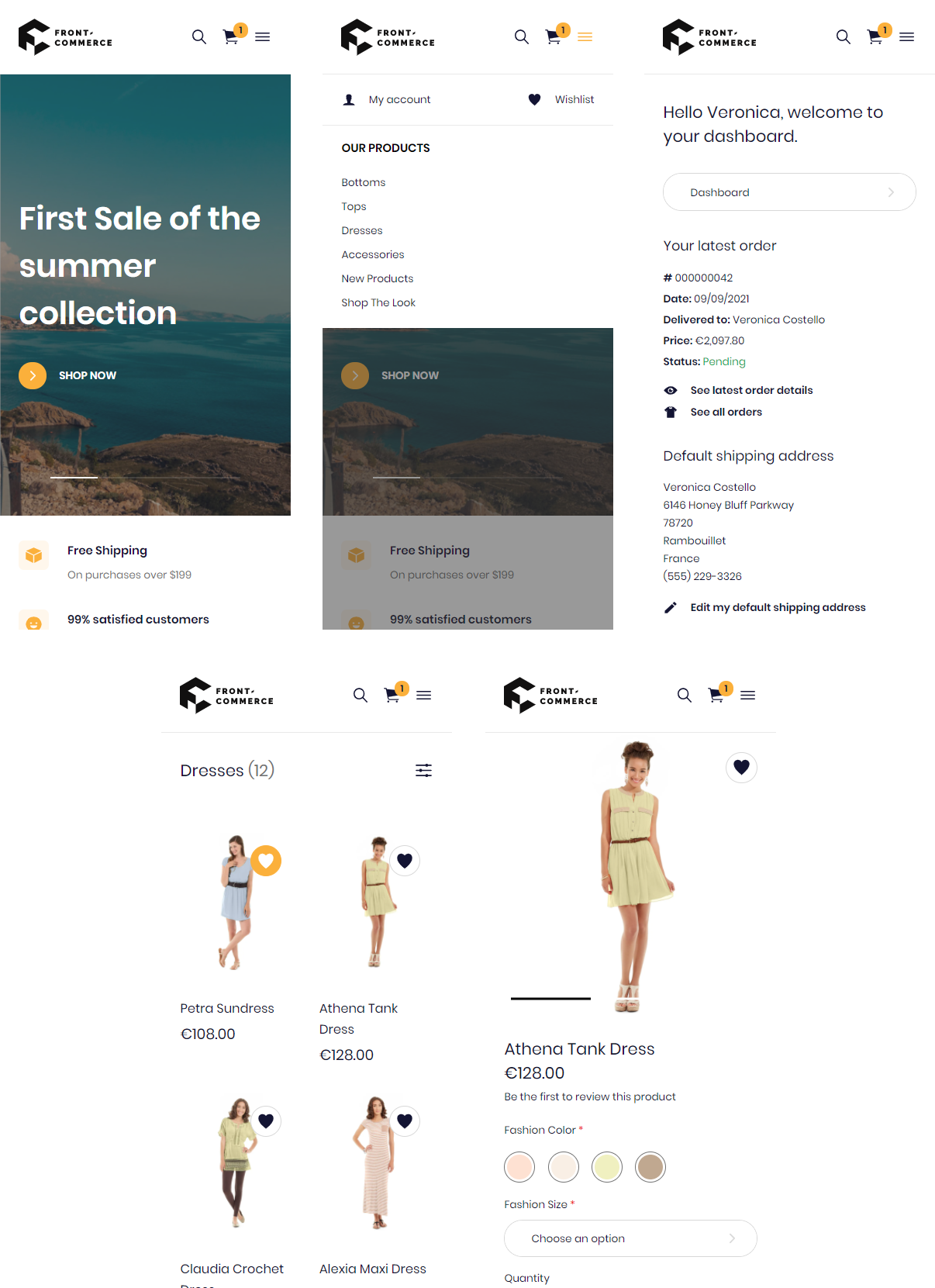 Similar to the desktop view, the Front-Commerce PWA theme on mobile is also clean and user-friendly.
However, we don't like the position and color of the wishlist icon on the product page. Front-Commerce should find ways to enhance it.
3. Functionality
Basic
Like every PWA theme, this theme is fast. Also, it not only can work offline but also is installable (with add to home screen function), catchable by Google search, compatible with all gadgets, especially mobiles.
In addition, there are 6 languages available, including English, Chinese, German, Hindi, Spanish, and French.
Advanced
Front-Commerce PWA theme supports the following payment gateways: Paypal, Stripe, and Adyen; and two search tools: Elastic search and Algolia. 
A Design System is included in the Front-Commerce default theme to assist you in keeping track of your brand's guidelines and look and feel. It's a living document that details the various ways you might present information to your users.
In partnership with the rest of the team, the Design System may also assist you in developing and maintaining the brand's identity.
4. Costs
Theme
According to a survey of Capterra, the annual cost of Front-Commerce starts at $8,000 per user per year. There is no free version and free trial available. 
To know in detail, we suggest you contact the company to get the quote.
Installation
Front-Commerce does not publicize the pricing detail, and we cannot give you any information about its setting up service.
Customization
Enterprises have specific needs and expectations, and no software product can meet them all. Trying to locate an ideal out-of-the-box software system that fits all of your business needs is pointless.
Customizing the solution for your specific goals is a wise move. However, as we have mentioned thousands of times, this is hard work and will cost you deep pockets.
Not only Front-Commerce but also other PWA theme providers will charge you a lot for this service. So, be prepared.
5. Updates & Support
There are various ways to contact Front-Commerce and get support. You can either join the discussion on their Slack channel or sending them an email. Their team will respond to your questions as soon as possible.
6. Documentation
Front-Commerce PWA theme's documentation is detailed and helpful. It is public on the company's website and covers from the installation process to troubleshooting common issues. 
7. Others
Front-Commerce also provides a demo version for Magento 1 stores. They can help you maintain your Magento 1 store by modernizing the frontend and securing the backend. However, as Magento 1 'died' in 2020, keeping using an outdated version is a high-risk decision, we suppose.
Besides, they are able to give you separate demos for different CMS (WordPress, Prismic, etc.) and tools (PIM, WMS, ERP, etc. ) as long as you request.
You should note that all those demos use the same default Front-Commerce theme. The only difference is the data, which comes from a variety of sources, including Magento, WordPress, and others.
Outstanding Projects
Autobernard.com
Autobernard is the online sales site of the Bernard Group which is a key operator in the distribution of autos and industrial vehicles in France. The site was converted into a PWA with the help of Front-Commerce.
Following the conversion, the site now includes capabilities such as allowing customers to compare the characteristics of three automobiles in parallel at any moment, requesting funding, booking and paying for reservations online; and scheduling a workshop appointment or getting a price.
Collégien
Collégien is a French hosiery company that makes slipper socks, tights, socks, and various knitted goods and accessories.
The company website runs on Magento 1 platform. Thanks to the Front-Commerce PWA theme, it now has convenient features, for instance, a professional-only B2B area with an efficient cart or advanced management of Magento 1 widgets.
Final Thoughts
Today, many PWA providers speak loudly that their so-called solutions are effective and worth your money. But you know, it's not easy to create a truly user-friendly eCommerce experience. Thus, do not rush into adopting well-publicized popular solutions. Even if they are commonly used, they may not be the greatest fit for your specific needs.
The Front-Commerce PWA theme is not a one-size-fits-all solution. Read some Front-Commerce reviews and dig more into the other options on your list. Such in-depth product research ensures that you avoid mismatched applications and pay for the system that gives all of the benefits your business demands.
Front-Commerce PWA Theme For Magento Review