In the last few years, Magento merchants tended to shift their attention to Progressive Web Apps instead of native apps. This leads to increasing demand for PWA solutions for Magento stores. NexPWA, which has come to the market for one year is a result of this trend.
You can discover NexPWA's features via its demo here, and then we can examine them together!
About Codilar Company
NexPWA is a product from Codilar – a Magento development firm located in Bangalore, India. Also, they have an office in Singapore.
Codilar specializes in the Magento platform and offers eCommerce web design, development, optimization, and marketing services.
Recently, Adobe Experience Cloud has named Codilar as a finalist for the Best Team of the Year Award (APAC).
NexPWA Theme For Magento
In 2020, Codilar developed and soft-launched the NexPWA theme for Magento. It is built and customized from ScandiPWA – an open-source Magento PWA theme that we have reviewed recently.
1. Technology
Like ScandiPWA, the NexPWA theme uses ReactJS, GraphQL, and Webpack.
2. Design
This is like a "fashion version" of the ScandiPWA theme. Some parts of the design are similar while the others are re-designed to look more "feminine" and fashionable.
Apart from it, NexPWA said that there are "6 ready-made themes for Fashion, Electronics, Health & Beauty, Home & Decor, Jewellery, and Grocery" but we only found the fashion demo. So let's check it first.
Desktop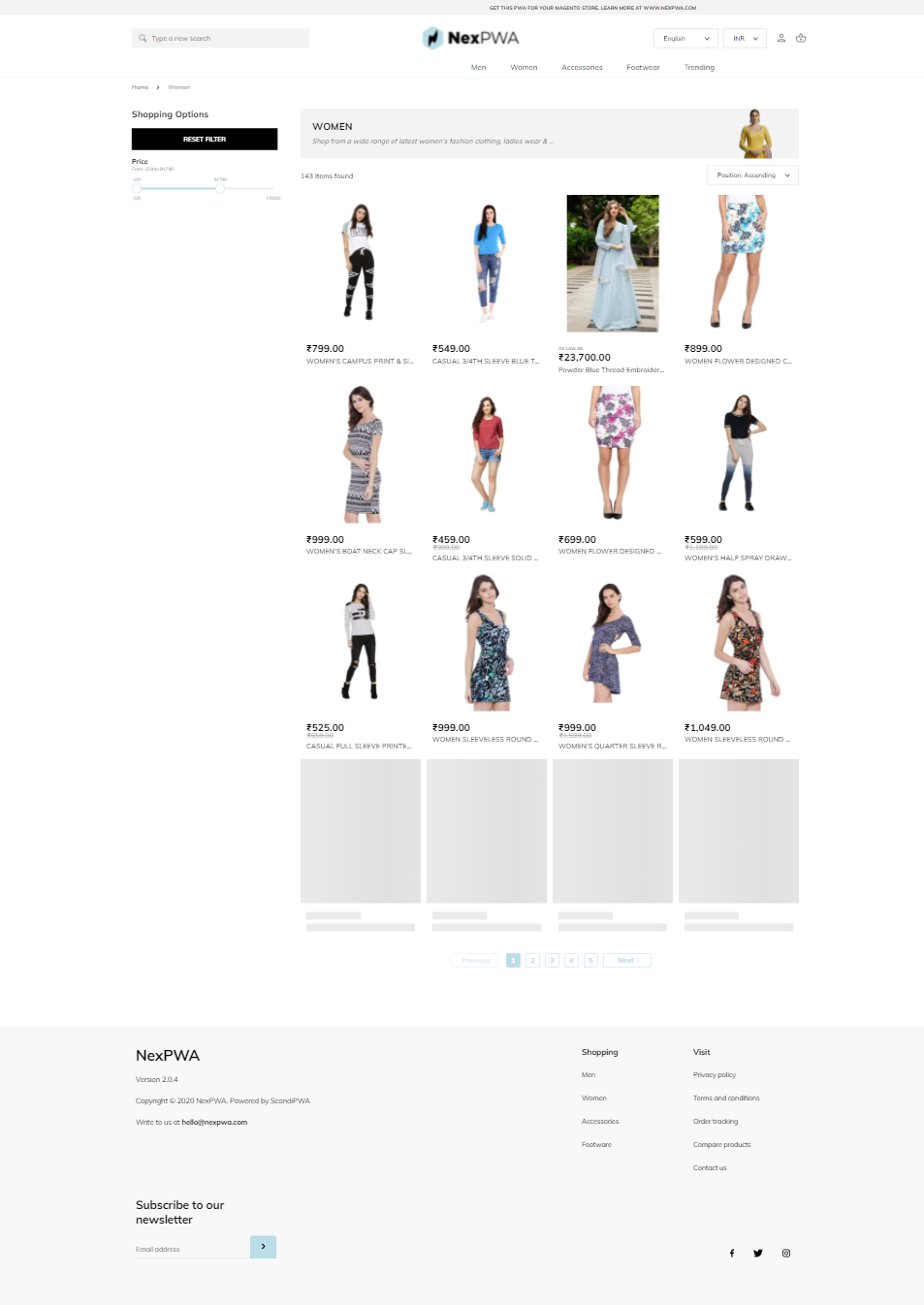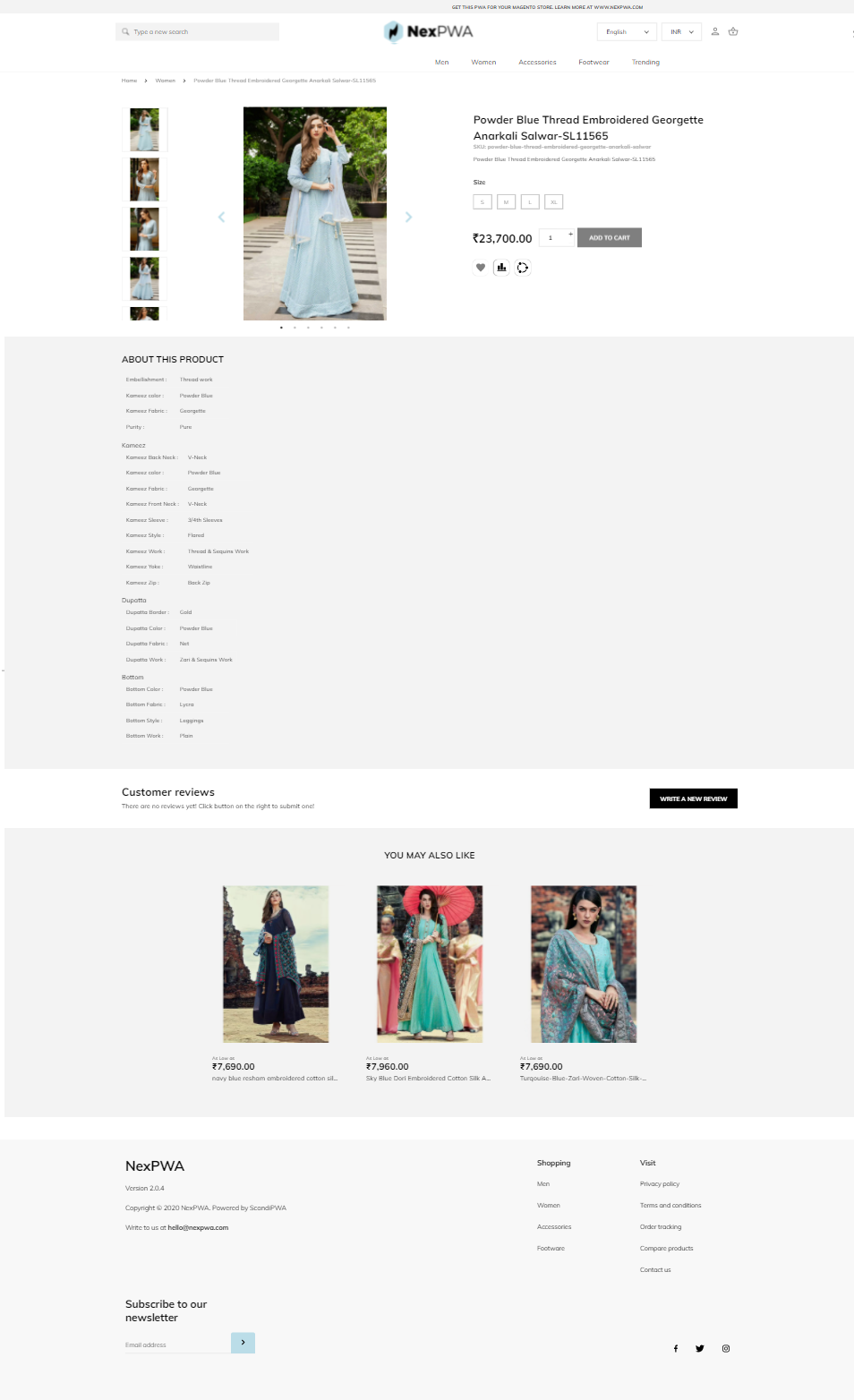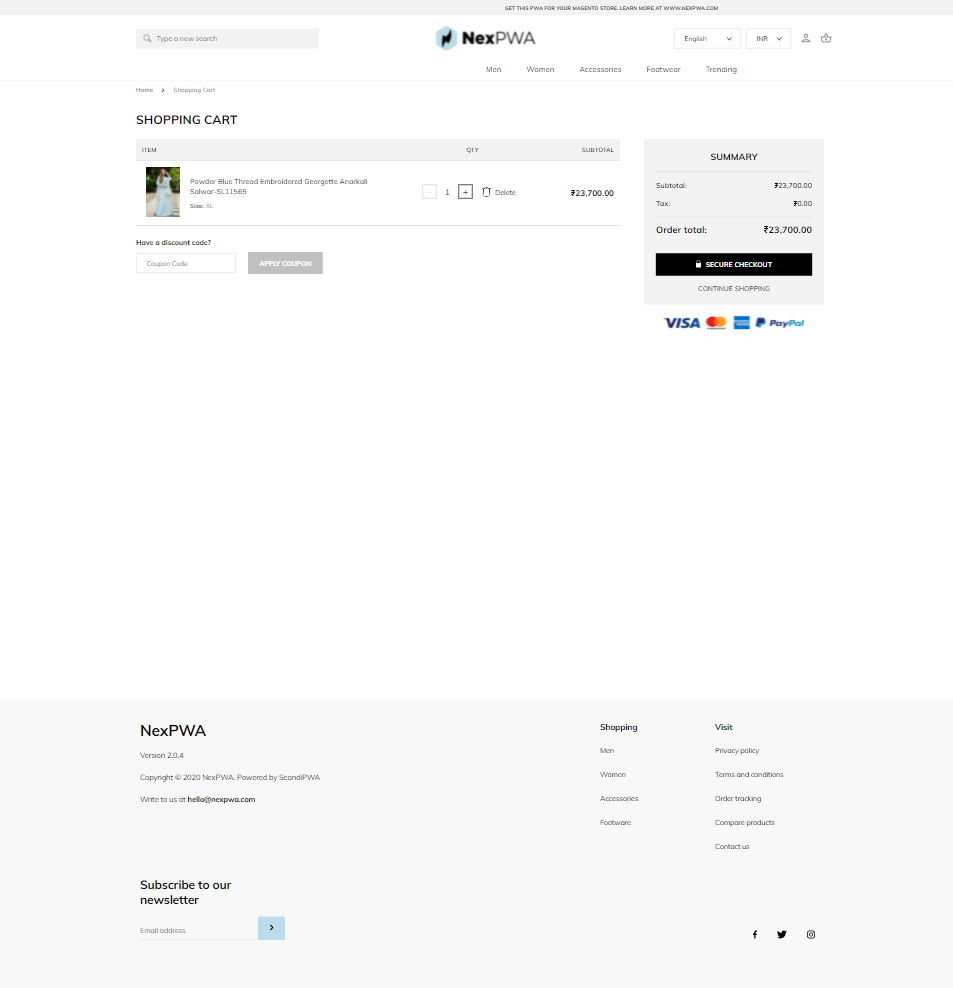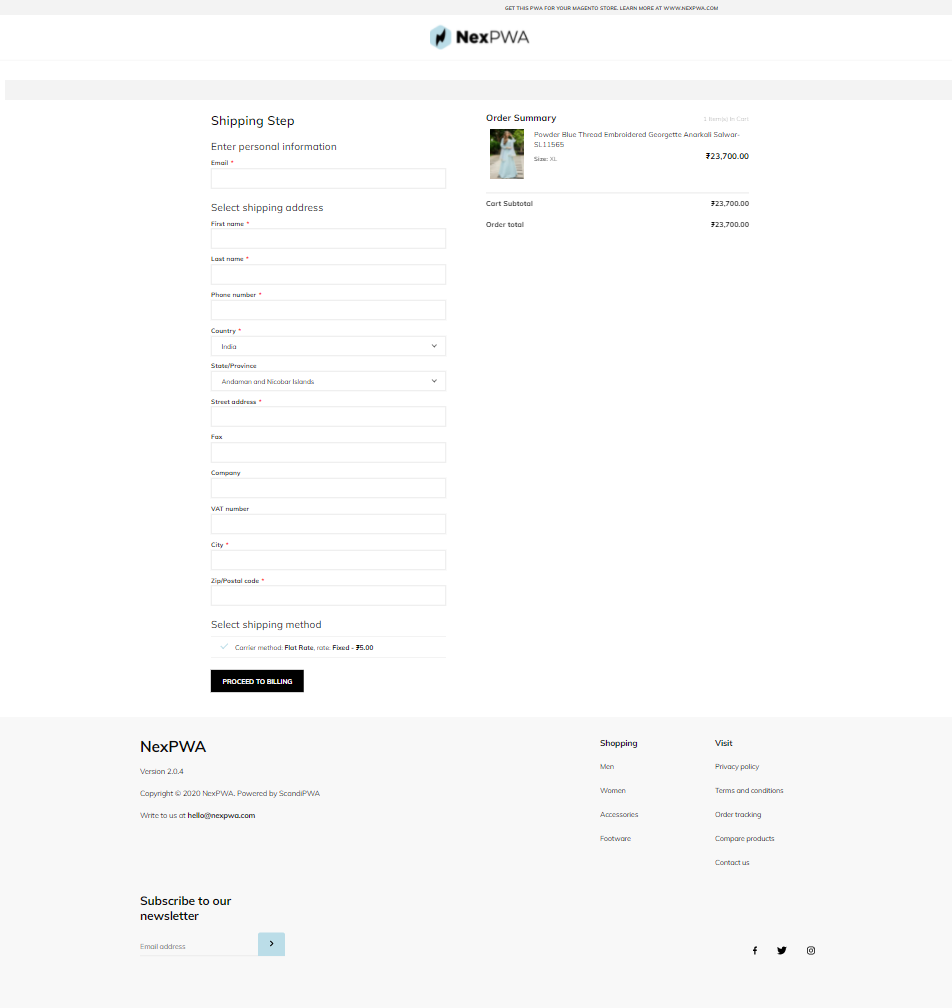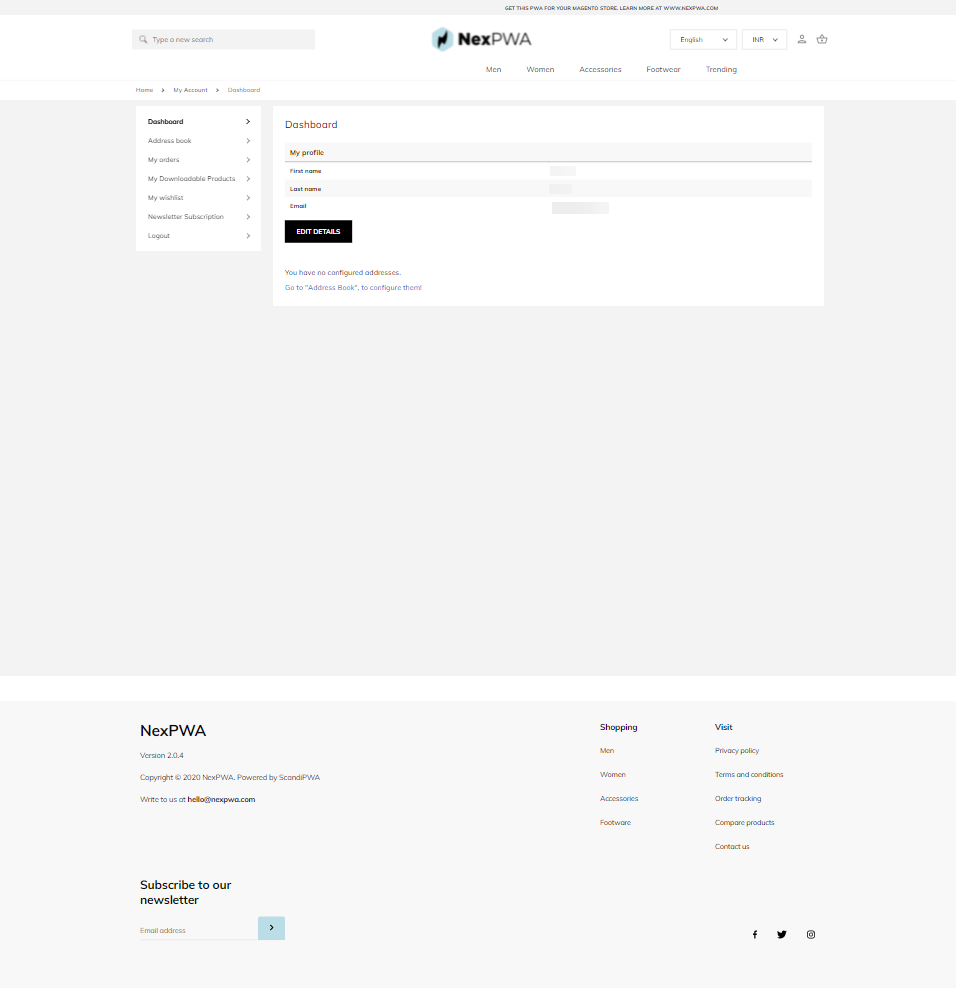 At first glance, the NexPWA theme's design is quite eye-catching when we access the home page with lots of beautiful banners.
However, when we come to other pages of the theme, it's quite disappointing. For example, on the category page, the filter is poor with only the price slider is available. Also, the three columns in the grid view make products less stand out. Also, there is no list view mode and hovering effects on the product images (to show add to cart/ wishlist/ compare options). The only plus point on this page is the infinite loading.
Additionally, on the product detail page, the section arrangement is quite weird and boring with the interlacing colors (blue and white) and large redundant space. Not yet, we cannot find where to view the comparison list after adding some items to it.
We used to think that this would be a better version than the ScandiPWA theme since it inherited the good elements and improved some parts. But we are wrong. NexPWA is a new disordered version of its original theme. Although the homepage with only banners is attractive, it might be difficult to apply for a real website. Also, it will lead to thin content, not a good thing for SEO.
Mobile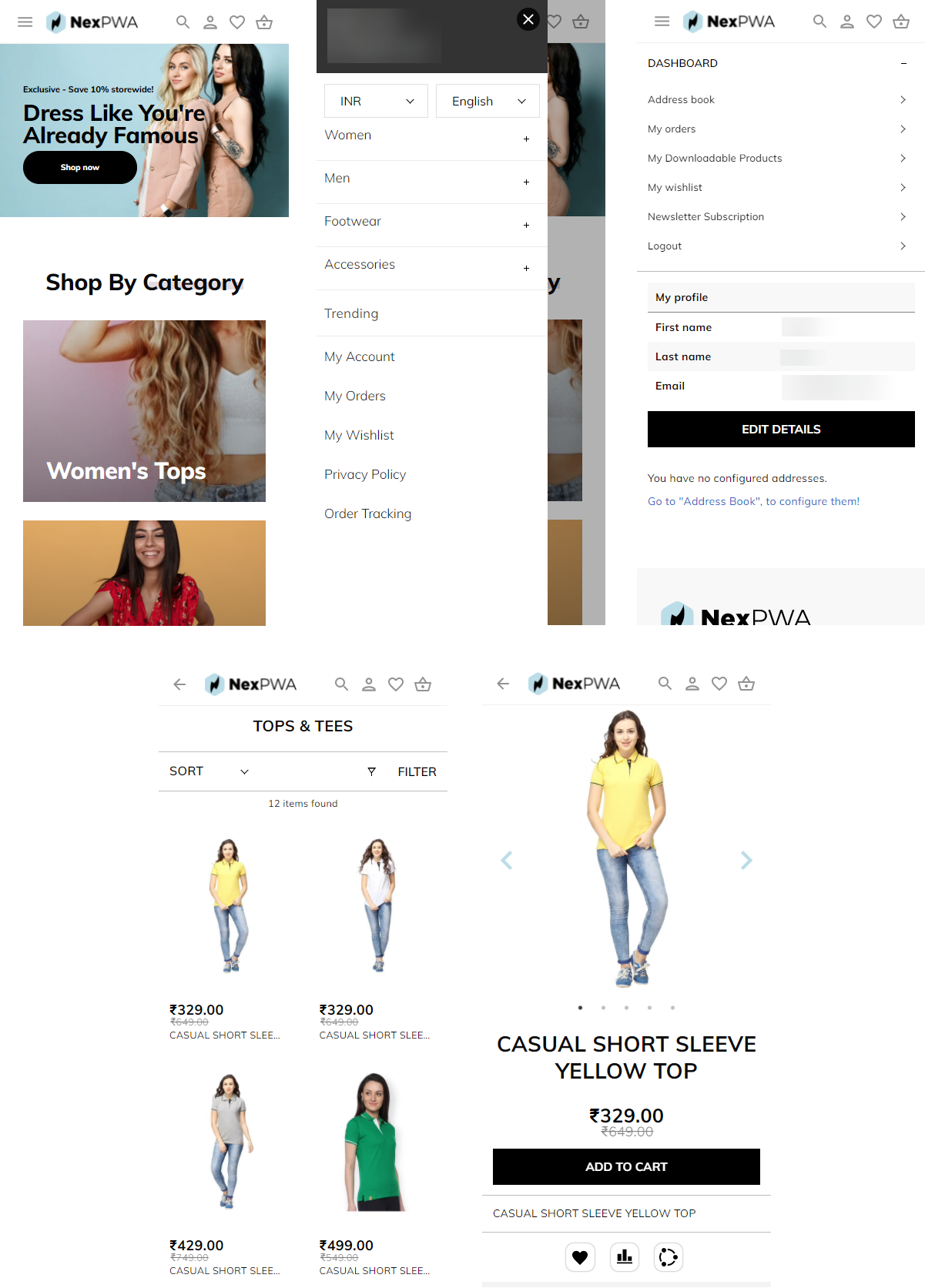 In the mobile version, there are some similar problems to the desktop one. But it's quite fast and smooth.
3. Functionality
Basic
NexPWA integrates the power of PWA to Magento, along with all of its benefits. The theme has add to home screen, offline browsing, push notifications, app-like experience, and other standard PWA features.
Besides, NexPWA maintains a number of Magento core features. On its website, only a summary of supported Magento functionalities are shown, so we are not sure whether all default features are supported or not.
Advanced
Payment gateway integration
NexPWA supports Paypal, Authorize.net, Braintree, Stripe, Klarna, Payfort, PayU, CCAvenue, Razorpay, Juspayys that have a Magento extension. For other payment gateways, you have to ask them for extra integration.
For Arabic languages, the theme allows an RTL (right-to-left) layout.
Google Tag Manager Integration
The theme is integrated with Google Tag Manager and Google Analytics to help merchants track necessary data related to their sites.
4. Costs
Theme
The company offers three different packages of different prices for their customers to choose from including Starter, Pro, and Custom. However, the prices are not public, you have to contact the team to get an exact quote.
Starter: This package includes default design and function, and theme installation. With this package, NexPWA commits to deliver the project after 2 weeks.
Pro: The distinctive point between this package and the first one is that it allows the custom design of up to 8 pages of the site, provides few more features and takes more time to complete (4-6 weeks).
Custom: This package offers unlimited customization, extension integration, unlimited integration with the third-party platforms, and Magento migration service. In other words, it will totally follow your unique needs and requirements.
Installation
Installation and implementation fee is included in the cost of all three packages.
Customization
Customization is allowed in the second and third packages. The more you want to change in the default settings, the more you have to pay. It totally depends on the volume of customization and how complex it is.
5. Updates & Support
All of their packages feature a 60-day warranty period. This warranty covers all NexPWA-related issues and bugs. Customers can also choose from Extended Warranty, Support & Maintenance Plans, or On-Demand Customization requests in addition to the free warranty.
6. Documentation
NexPWA hasn't released any official documentation.
7. Others
NexPWA is compatible with all Magento versions later than 2.3.0. They can assist you with an upgrade if you are using an earlier version of Magento 1 or Magento 2 (of course, there will be a surcharge).
You have to contact them to receive a quote.
Outstanding Projects
Shure
Shure is an American firm with a long history of producing high-quality recording and hearing items for professionals all over the world. NexPWA assisted them in putting up their new store in India, which was the start of their Indian eCommerce career.
The PWA site witnessed a 135% rise in mobile revenue and a 41% rise in conversion rate.
Enamor
Enamor is one of India's largest and most well-known innerwear and fitness businesses, having been founded in 2001. The brand got PWA front-end experience thanks to NexPWA Suite.
After the conversion, Enamor increased its mobile revenue by 46% and the conversion rate by 101%.
To Sum Up
As you can see, the greatest strength of NexPWA is its fast speed, quick delivery, various payment gateways, and RTL support. Despite that, the theme's design is not impressive and it lacks detailed documentation.
If Codilar can address some weaknesses of the theme, as we have mentioned, NexPWA would be a promising PWA theme for Magento.
NexPWA Theme For Magento Review