Magento PWA will surely become the new sought-after shopping experience as more merchants adopt this new technology and make it the new eCommerce experience. Among common names of PWA solutions in the market, such as TigrenPWA, ScandiPWA, Vue Storefront, we also have the SimiCart PWA theme for Magento.
You can access the theme's demo here. Before going any further with our comments, let's experience it yourself.
About SimiCart Company
SimiCart is a Vietnam-based company that offers solutions for developing Magento mobile apps and headless PWAs. So far, they have over 10 years of expertise and over a thousand clients throughout the world.
Besides, they provide various Magento services, including Magento SEO and marketing, Magento 2 speed optimization, Magento design, and Magento customization.
SimiCart's Magento PWA Theme
1. Technology
Magento PWA Studio
Maybe you have already known, themes with a PWA Studio base and themes without a PWA Studio base are the two varieties of Magento PWA themes.
Like TigrenPWA, the SimiCart PWA theme is part of the first group. As a result, the theme gains two visible advantages, including a restriction of code conflicts and regular updates.
React.JS
React framework contributes to SimiCart PWA's perk of lightning page load time. Thanks to its virtual memory (DOM), SimiCart-based PWA pages get a faster rendering speed.
GraphQL
In terms of APIs requests, GraphQL is much more effective than REST when it can make numerous queries in every call.
2. Design
Desktop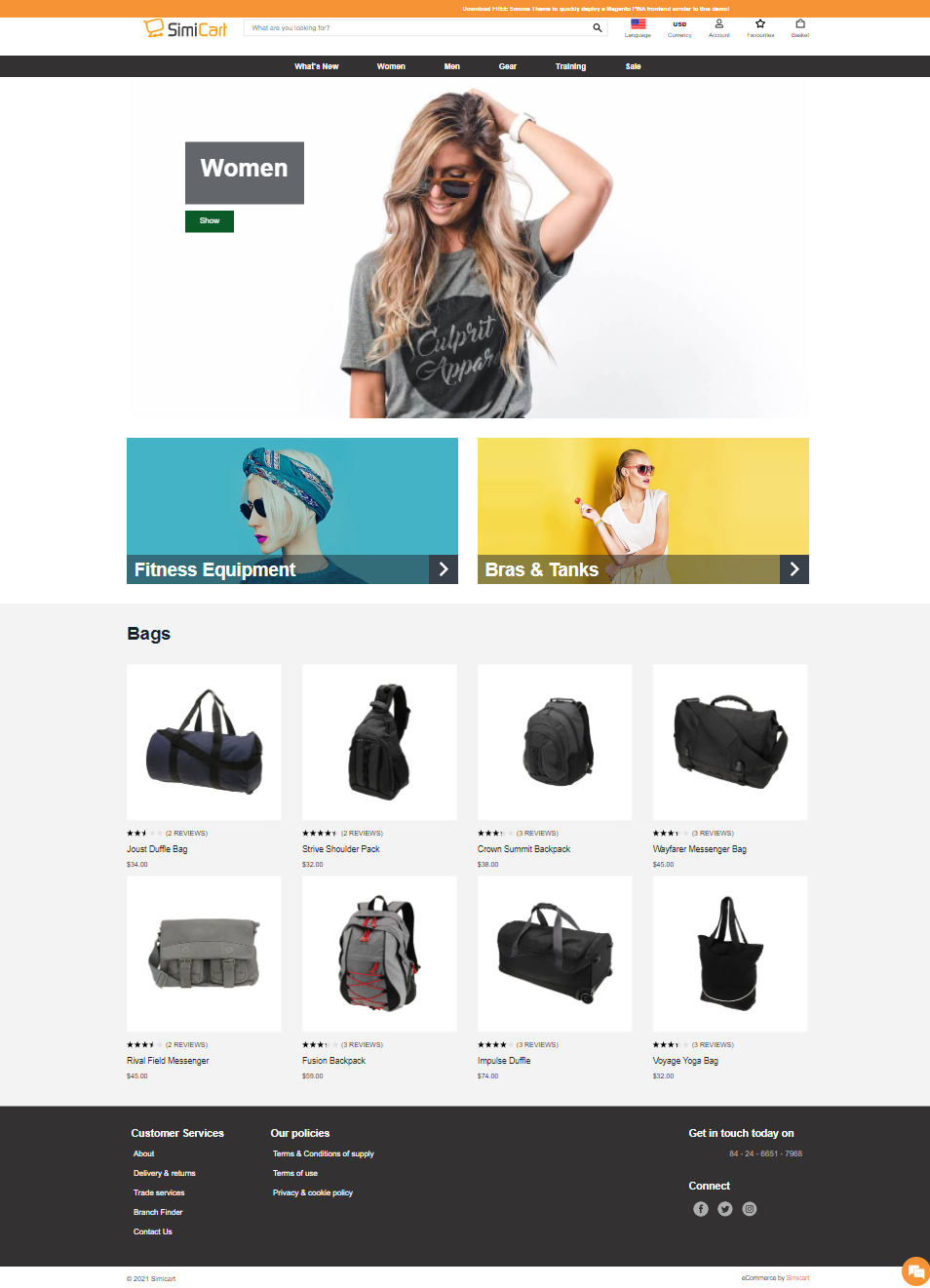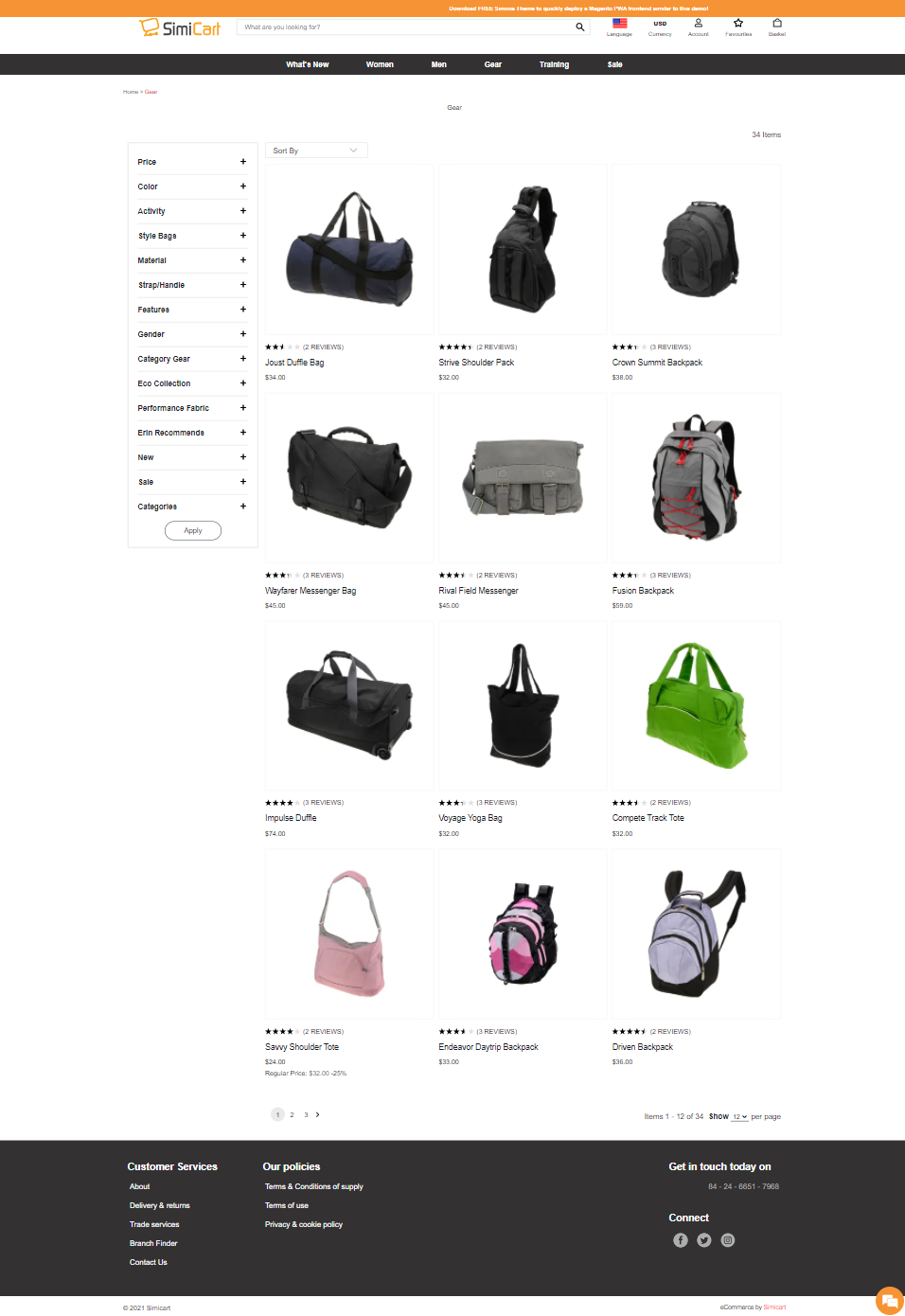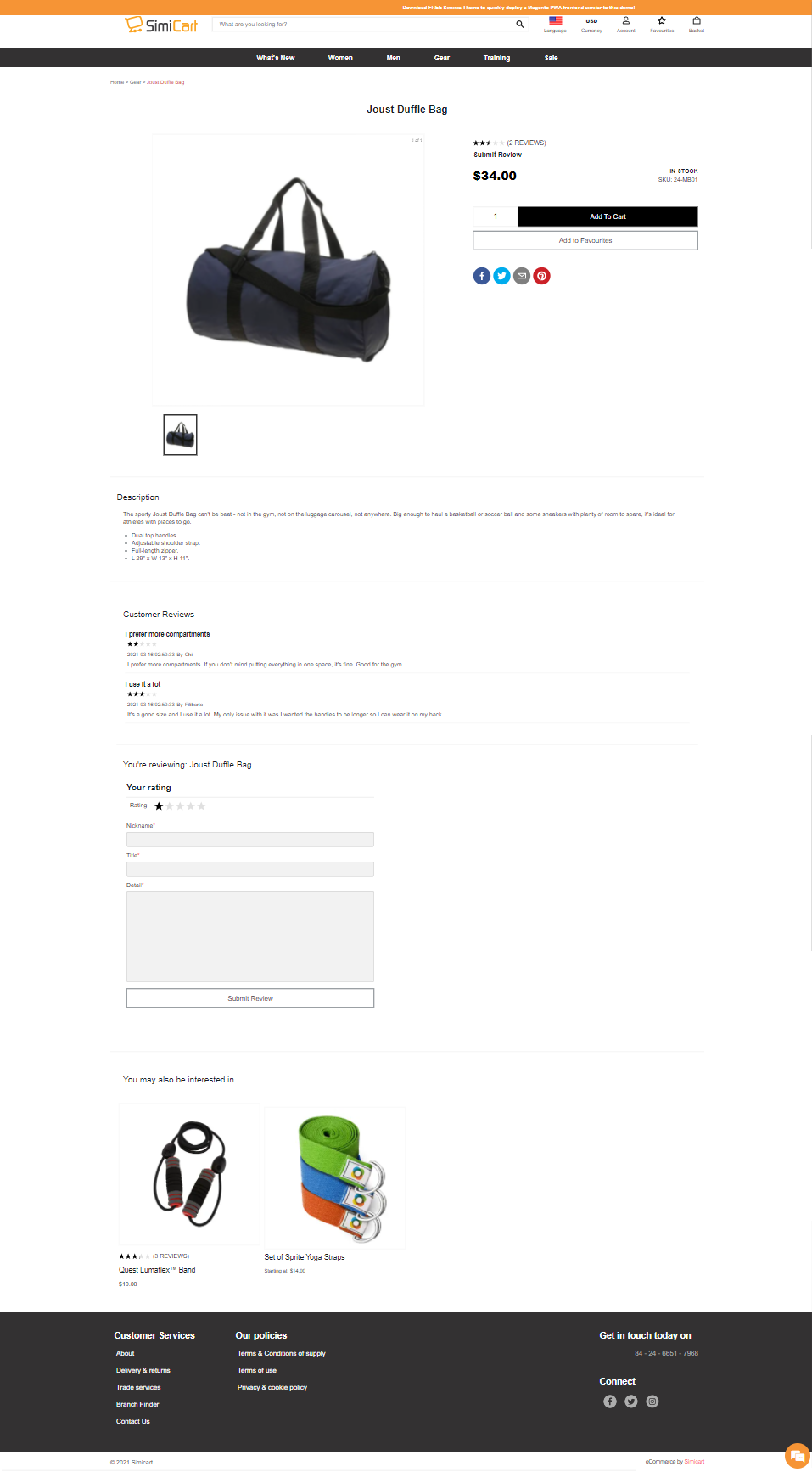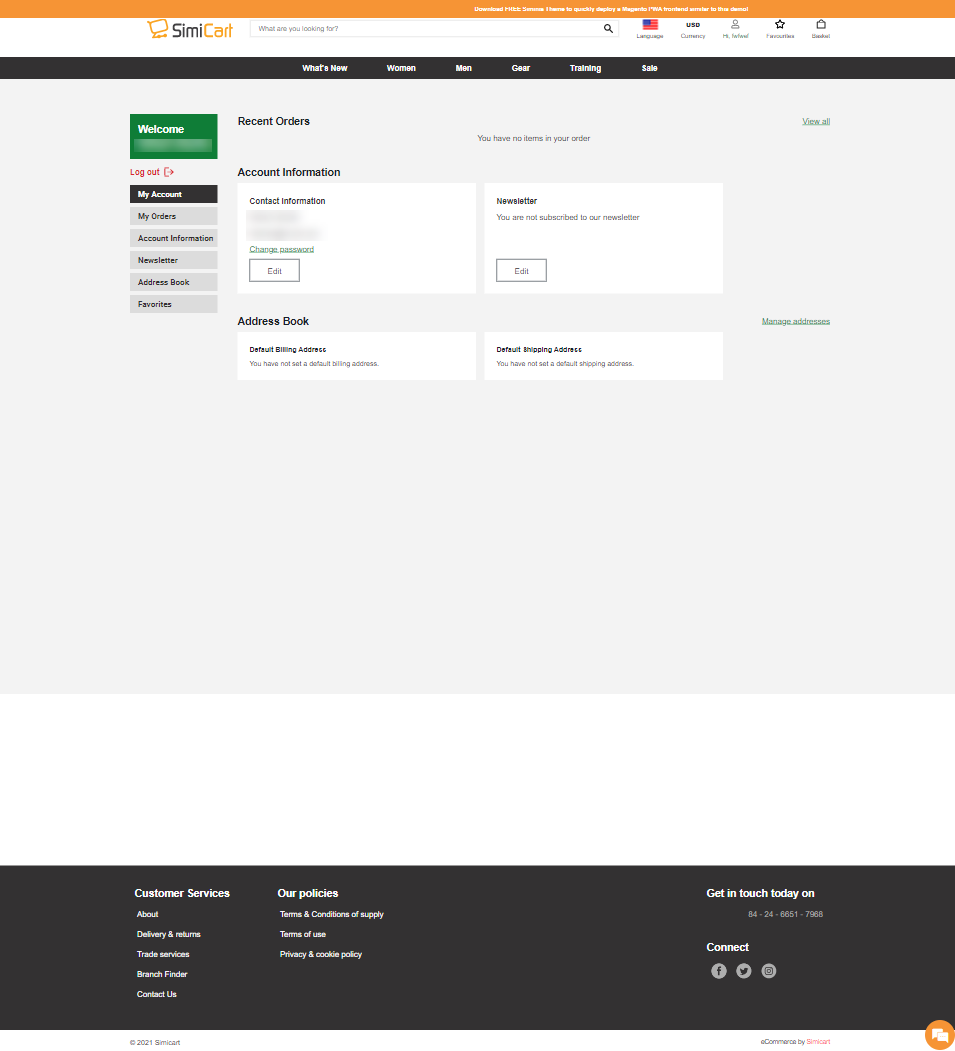 Quite frankly, we do not highly appreciate the SimiCart PWA theme design. As you can see, it's a patched-up and careless layout.
Moreover, the font size is too big and unnecessarily displayed in bold in some places. Although the color palette combines two main colors: orange and black (as SimiCart's logo), they are not well-matched.
On the product page, the layout is the worst with the full-width description, while the customer review section is on one of the two columns.
In short, despite being a fashion theme, the Simicart PWA storefront looks unappealing and outdated. With this weakness, it cannot be applied to any real Magento store without huge customization, especially those in the fashion industry that require a high demand for aesthetics.
Mobile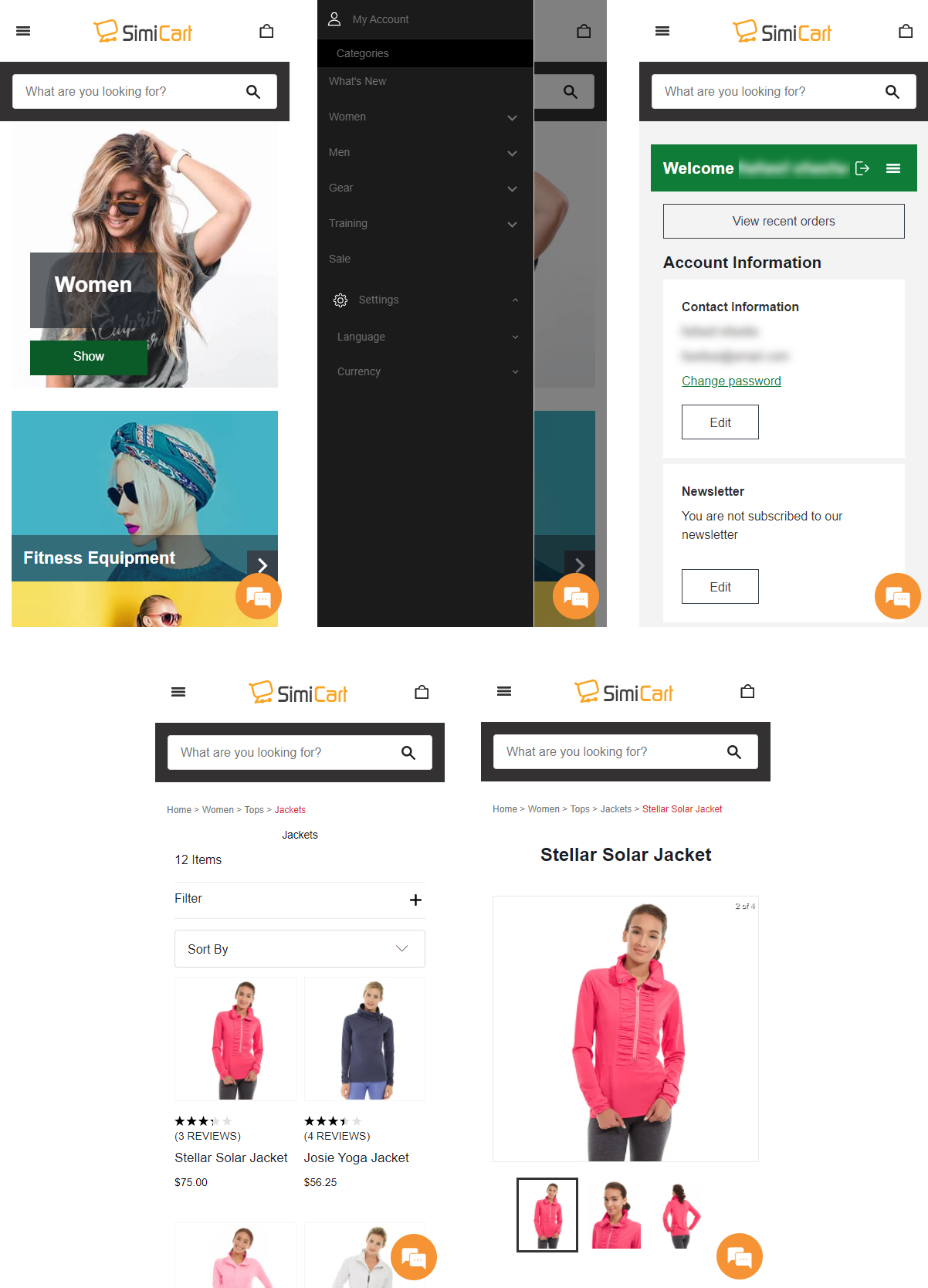 Even though SimiCart commits itself to deliver a mobile-first experience via app-like UX design, we think that it is not mobile-friendly enough. And it's not attractive as well.
3. Functionality
Basic
In general, the SimiCart PWA theme, like other Magento PWA themes, provides enough core features of a Progressive Web App and a Magento store.
It combines the best of both worlds by embracing the strengths of both a website and an app. SimiCart theme provides a cross-browser capability, offline mode, and add to home screen function.
Advanced
SimiCart is partnering with Mageplaza to make some of Mageplaza extensions (e.g., blog, auto related products, product alerts, shop by brand, product label, call for price, FAQs, share cart) work on the Simicart PWA Storefront.
However, if you want to add third-party extensions, not from Mageplaza, extra fees for extension-theme integration will be needed.
4. Costs
Theme
This is not a free Magento PWA theme, but its price is not public. Actually, we prefer the ones with specific prices like TigrenPWA, GoMage, MageWorld or open-source ones like Vue Storefront and ScandiPWA.
Installation & Customization
Similarly, we have no idea about Simicart PWA's installation and customization price.
5. Updates & Support
Since SimiCart PWA is built on PWA Studio, it might stay up-to-date with the most recent versions of the Magento platform.
6. Documentation
We do not find any documentation for using the SimiCart PWA theme.
7. Others
As stated from the beginning, the company does offer other useful services such as Magento migration or Magento customization, which help Magento 1 merchants to convert their websites to Magento 2 before adapting Progressive Web App technology.
Outstanding Projects
Organyc
Organyc, based in the UK, is one of the few organic feminine product care providers on the market.
As a leader in the green movement, the company needed to design a shopping experience that was competitive and engaging enough to reflect its value. Then, they decided to make a move with a Magento PWA with SimiCart's help.
The new PWA-powered site now appears modern, sleek, and capable of conveying the brand's value to a wide range of screen sizes. Organyc also went with bespoke features (Build a Box, Product Subscription) to enhance the purchasing experience because their products are seasonal in nature.
Benecos
Benecos is an organic cosmetics selling company founded in 2008 in Aschaffenburg, Germany's heartland. To get a welcoming and engaging shopping experience that reflected its brand image, the company used a tailor-made Magento PWA theme by SimiCart.
Their new PWA-powered storefront now has a fresh app-like appearance and feel, as well as bespoke functionalities (Find Nearest Stockist, Add Products to Cart/Wishlist from Listing with Color Options) that provide them with a competitive advantage.
Last Words
Reading through all these things, we hope that you have grasped the most common ideas about SimiCart PWA, including its strengths and weaknesses.
One of the best advantages of this theme is that it's built with the Magento PWA Studio. Also, some completed projects are shown.
On the contrary, there are some evident disadvantages. Although Simicart's Magento PWA theme is ready to use, its storefront design and functions are poor. As a result, you cannot apply it without customization. Additionally, the price of the theme and other related services are not public, and you have to contact the firm to get a specific quote.
SimiCart PWA Theme For Magento Review