GoMage, being aware that PWA is the most popular eCommerce trend that many Magento stores are following, provided a ready-made Magento PWA theme. Today's post will explore the GoMage PWA theme to see how it looks like and how it works.
You can see the GoMage PWA theme's storefront demo to make your own judgments before going any further with us.
About GoMage Company
GoMage has been delivering professional Magento development services for over ten years. The company is located in Texas, US.
So far, they have completed lots of projects of different scales, created 15 Magento extensions (12 for M1 and 3 for M2), and joined the Adobe Solution Partner program.
The company has a number of delighted customers that have been with them for more than eight years. At present, the GoMage community is constantly growing with new Adobe certified & eCommerce-inspired partners.
GoMage's Magento PWA Theme
The GoMage PWA Theme is a ready-to-use solution for integrating a PWA storefront into a Magento 2 website. The theme was first released in 2020.
1. Technology
Magento PWA Studio
GoMage decided to use the Venia storefront to create their own Magento PWA storefront. With the PWA Studio base, it might easily catch up with new Magento 2 versions and related updates.
React.JS
GoMage provides a PWA site that is robust, fast-loading, and SEO-friendly with React, thanks to its virtual memory.
GraphQL
GraphQL is commonly known as a more powerful, flexible, and efficient data manipulating language than REST. GoMage utilizes this architecture to enhance its storefront performance.
Redis
The use of Redis cache improves GoMage-based PWA performance even more by caching GraphQL POST requests. There have been no consumer losses as a result of poor performance.
2. Design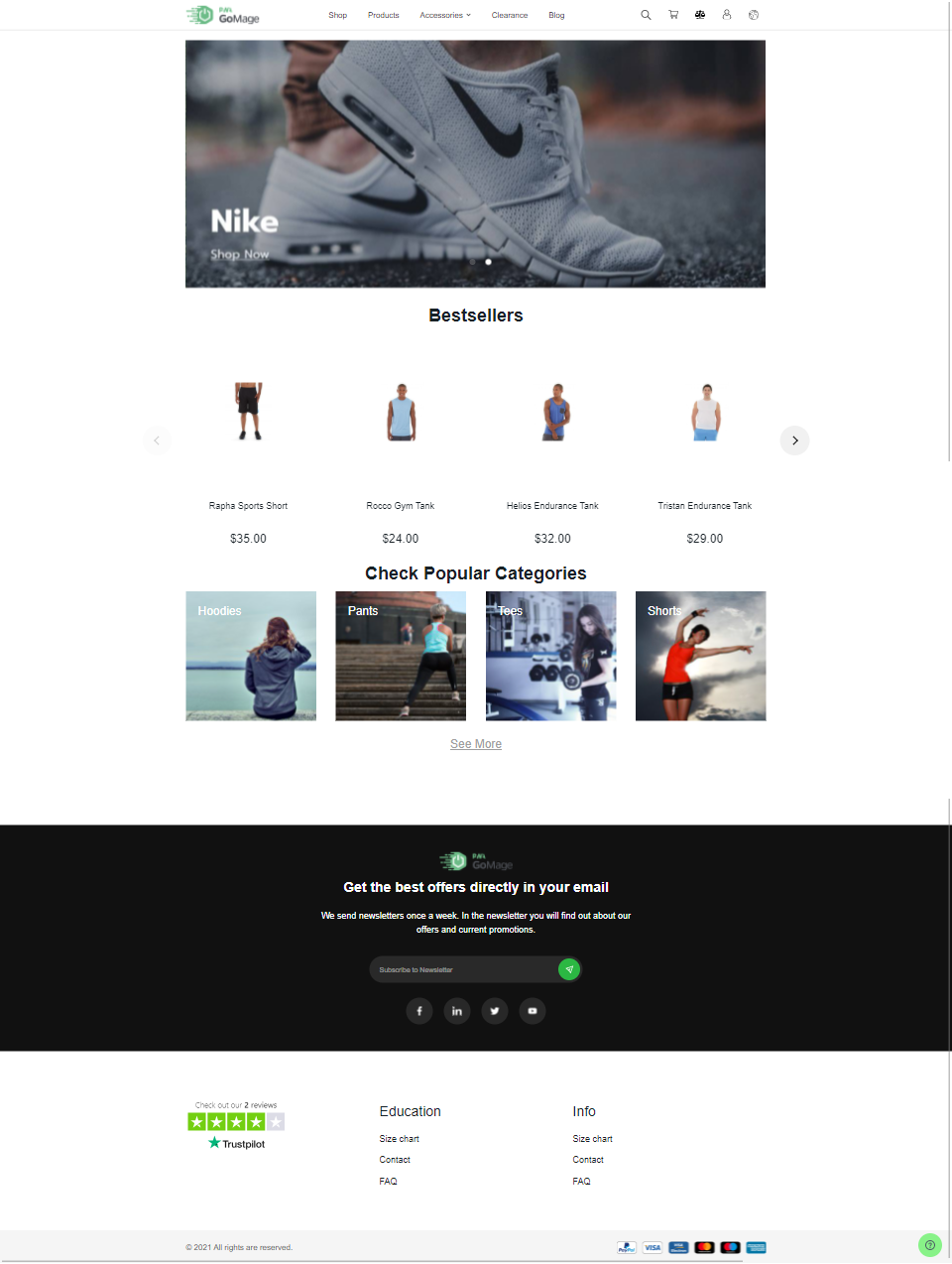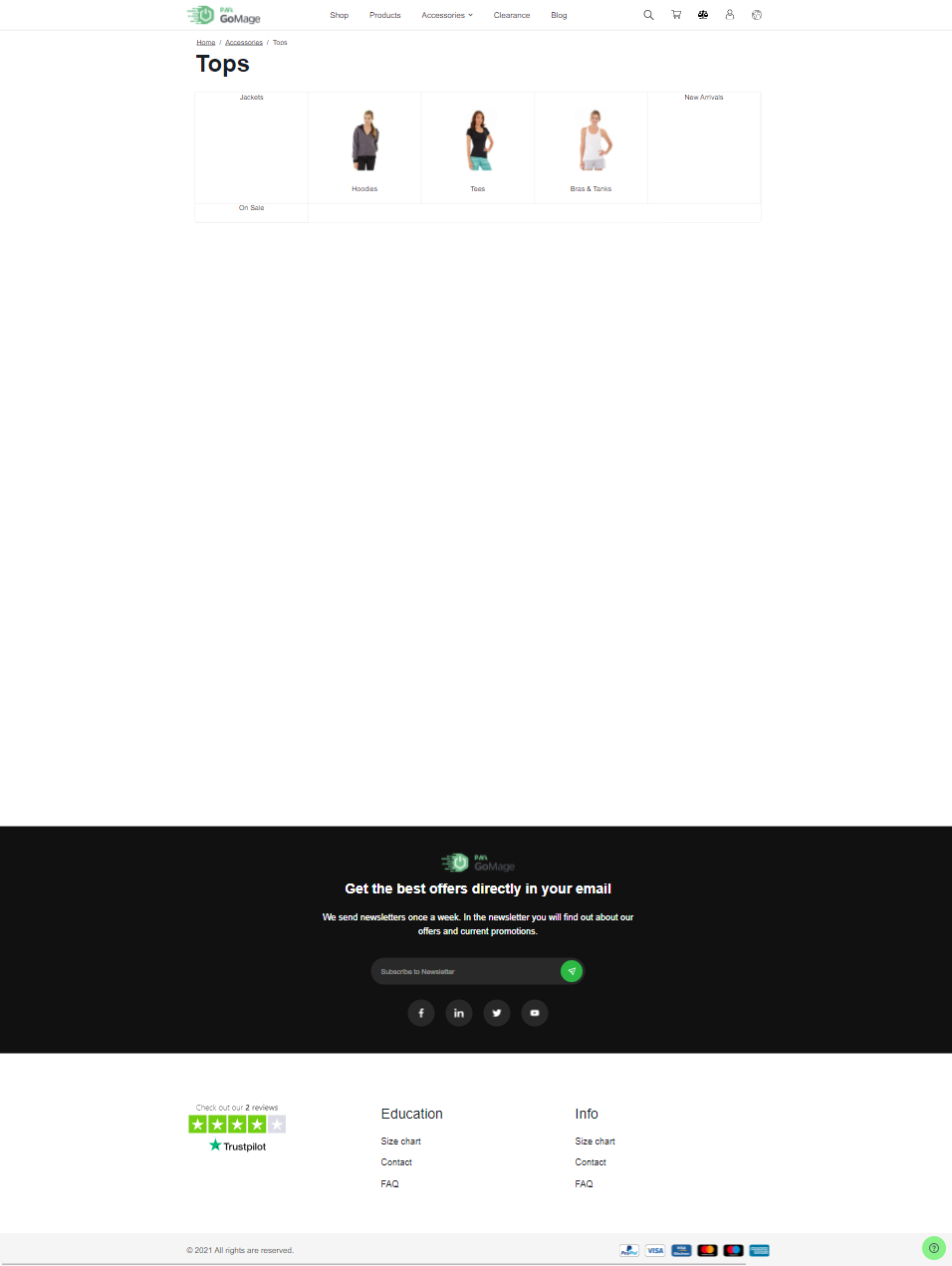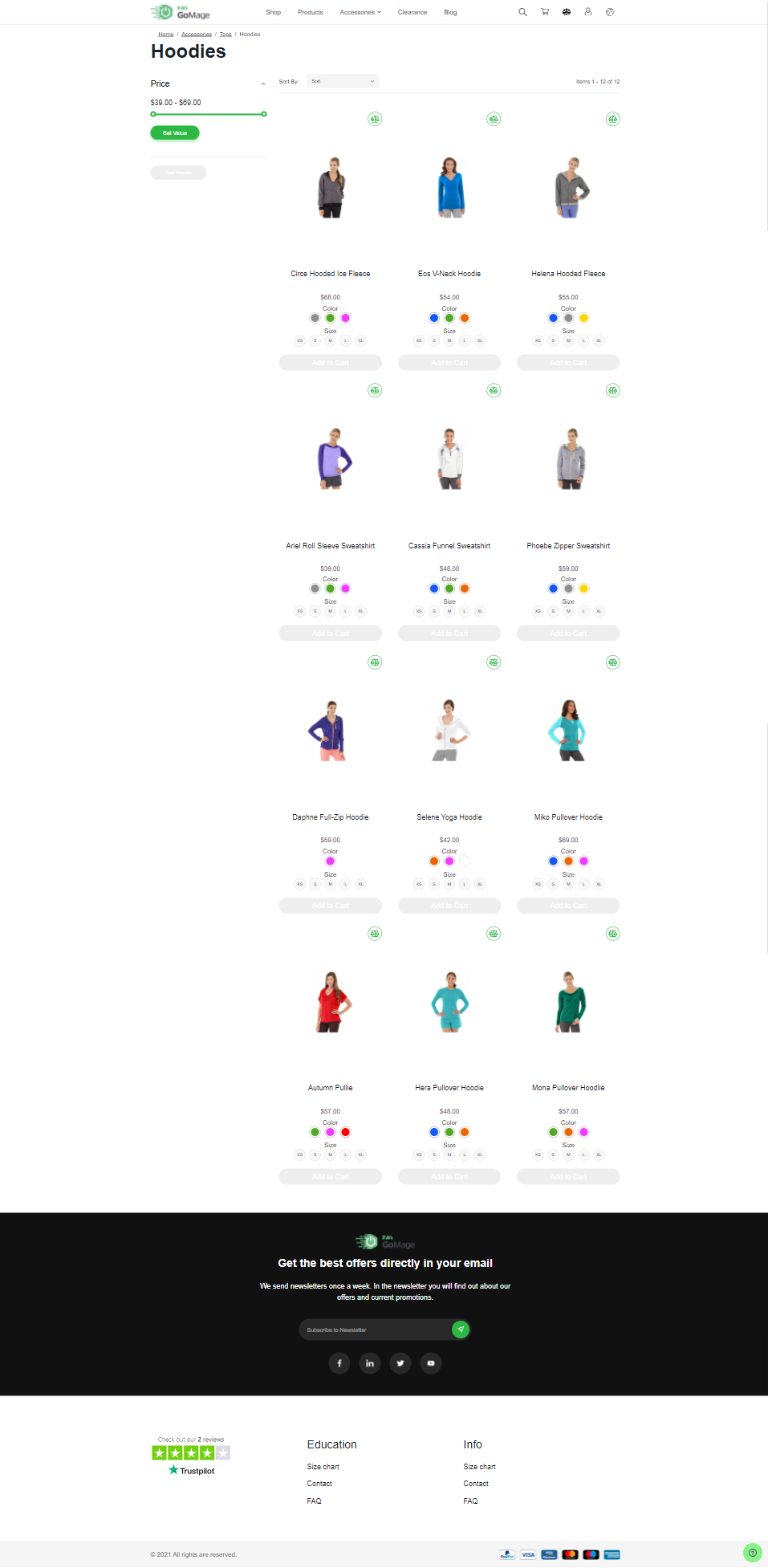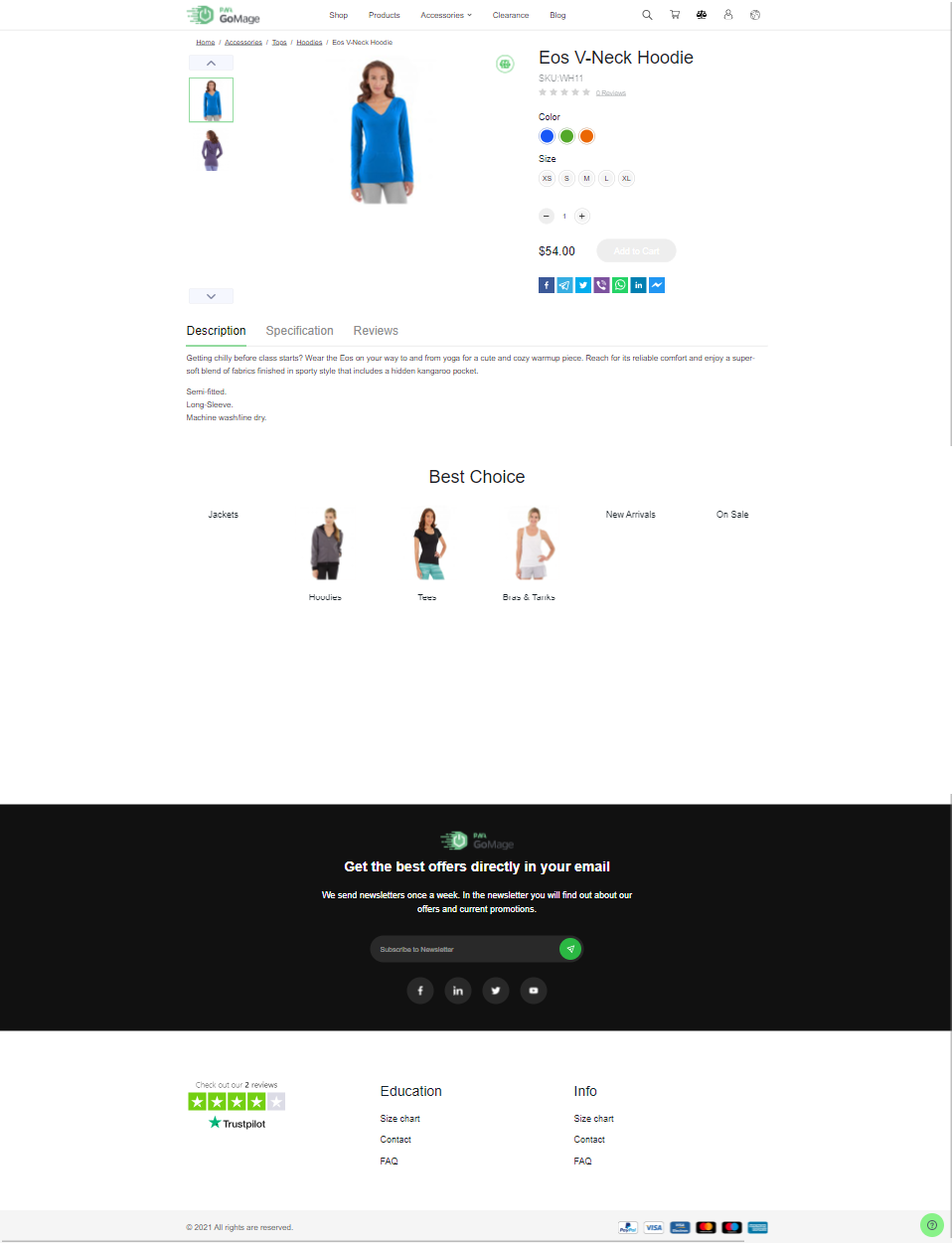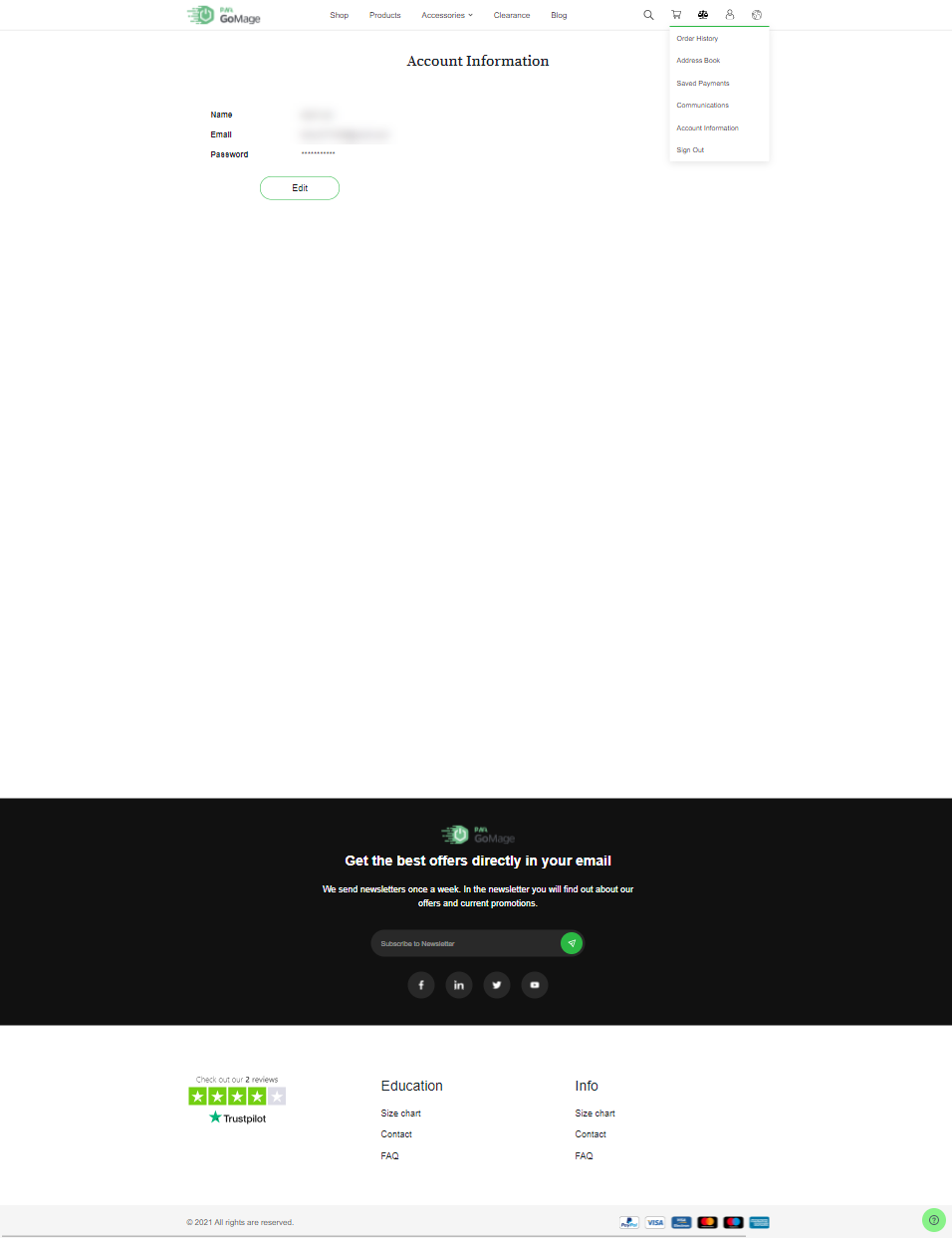 Developed from the Venia storefront without significant improvements, the GoMage theme appearance is not really attractive.
Desktop
Despite a proper font size and a highly visible content display, the layout on the homepage is unimpressive. There are only a banner slider, a product slider, a category list, and a newsletter subscription section.
The theme design also causes discomfort for customers with the poorly-designed category page with a horizontal list of subcategories.
Next, there is only a price filter/ slider on the layered navigation on the subcategory page. Not yet, that function is not user-friendly when we have to do multiple steps to get the filter results (drag the slider > click Set Value > click See Results)
In 2021, the most common desktop/ laptop screen resolution is 1920×1080. That's why we decided to test the GoMage PWA theme on that size mainly. However, the theme immediately shows its weakness with a lot of white space on the two sides of every page.
Compared to PWA Studio Venia, there are absolutely no changes in the Customer's pages (Order history, Address book, Saved payment…). Those separated pages are big minuses of both Venia and GoMage PWA themes.
Mobile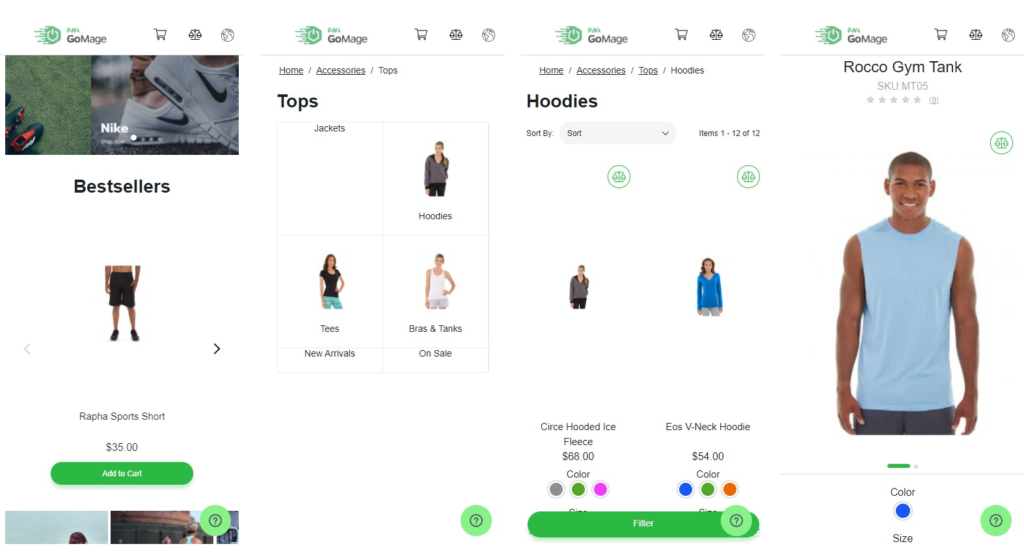 The mobile version is a worse responsive version of the desktop view.
Right on the home page, you can see tiny product images in the Bestsellers block. The product list pages see the same issue.
Additionally, the filter position on the category page is not user-friendly when it is placed on the bottom of the screen view.
On the product detail page, there are more problems with the images. There are different sizes for the images with poor resolution. Moreover, instead of showing a related product slider, the GoMage theme displays a list of categories?
In terms of storefront design, we suppose that GoMage definitely needs an enhancement to be more practical.
3. Functionality
Basic
Like other PWA themes, GoMage owns typical features of a PWA, including working cross-platform, working offline, and add to home screen.
Additionally, as it was built on PWA Studio, it is equipped with basic Magento functionalities.
Advanced
The theme also offers other common-requested features out of the box as follows:
Algolia's search system is integrated into the GoMage PWA storefront. You have the option of using Venia's default search or Algolia's search.
Thanks to the Trustpilot integration, you can gain customers' trust through feedback on your services and products from prior customers' proof.
Integrating your blog with Disqus lets you share essential information with customers and take advantage of content marketing. You will get a powerful marketing weapon when you combine it with SEO friendliness.
GoMage PWA theme also has several upgraded features such as an advanced filtering option with a price slider and multi-color selection or social authentication support with Google or Facebook account.
4. Costs
Theme
Currently, GoMage gives customers two options: An open-source package and a Commerce package. Both of them are going with a free developer key.
Open-source package: The price is $1,799 with 6 months of support and upgrade.
Commerce package: The price is $2,299 with 6 months of support and upgrade.
Installation
The fixed cost of the installation service is $449.
Customization
Together with GoMage specialists, you can customize existing functionality or create a new one. With this service, they can integrate your Magento PWA with any third-party solutions in addition to the built-in integrations such as Algolia and TrustPilot.
Their staff will assist you with modifying the UX and UI design as well as adding any visual effects. To know the specific price, you must determine what your requirements are then let them know. Of course, the more you want, the more you pay.
For the CSS customization (changing colors, button typefaces, and form elements; altering the main block's background; modifying the logo, favicon, and image sizes), the cost is $499.
5. Updates & Support
As said previously, GoMage PWA theme's packages go along with 6 months of free support. If you want a longer support period, you may have to pay more ($499 for the open-source package and $599 for the commerce one).
The same thing happens with upgrade service when they charge you $1,499 for the open-source package and $300 more for the other ($1,799).
6. Documentation
GoMage has published two documentation on their website, including GoMage PWA Documentation and Magento 2 PWA Documentation. However, both of them are not completed.
For the GoMage PWA Storefront Documentation, only theme installation and requirements are available.
Whereas the Magento 2 PWA Documentation provides information related to PWA Studio. We wonder whether it is necessary since Magento has already offered very detailed documentation about its tool.
Outstanding Projects
No Magento PWA development projects using the GoMage PWA storefront are found.
Final Words
On the whole, GoMage can be considered a promising PWA theme in the future. However, at present, when the theme is still new and missing few features, we advise you to look over its demo and research carefully. Or else you will not know whether it fits your demand or not.
Although this is one of the most expensive Magento 2 PWA themes so far, it seems not to deserve its price. Therefore, you might look for another solution with a better price.
GoMage PWA Theme For Magento Review