Since Progressive Web App is predicted to be the new norm in the eCommerce industry, recent years have seen a boom in PWA solutions demand. Besides PWA themes, PWA extensions also are standard options for Magento merchants. To name one that could be considered one of the most popular, we can't help but mention Magento 2 PWA Extension from Webkul.
Here is the demo version of this PWA extension that you can access at any time to get the experience by yourself.
About The Company
Webkul is an Indian web and mobile product development company that creates software for enterprise-level eCommerce firms.
Founded in 2010, over the past 10 years, Webkul has developed a wide range of products, including web plugins, eCommerce marketplace software, OpenERP/Odoo connectors, mobile apps, dropship, and many more for various open-source platforms, counting Magento.
Webkul Magento 2 PWA Extension
This is among various Webkul's products for the Magento platform.
1. Price & Policies
The total cost of this PWA extension from Webkul is $199 with free 3-month support, a free lifetime upgrade, and a 30-day refund policy. They only accept one-time payments.
Unfortunately, its package does not go along with an installation service. The company charges you $39.8 more for this, $79.6 for 6-month support, and $99.5 for 1-year support.
You will get the cloud hosting service offered for free for one year with either AWS Free tier hosting or GCP Free tier hosting. The default configuration details are inclusive of:
1 GB RAM
1 Core Processor
30 GB Hard Disk
DB with 1 GB RAM and 1 Core Processor
If you want to make your store special, they provide a customization service that is charged depending on the volume and difficulty of your requests.
Besides, Webkul also offers a combo of Magento 2 for mobile with a 14% discount on the total price ($599 now) if you purchase both Magento 2 PWA Extension and the following products:
Magento 2 Mobile App Builder
Accelerated Mobile Pages (AMP) for Magento 2
2. Features
Compatibility
Currently, Webkul's Magento 2 PWA Extension can work on Magento from version 2.0.x and above. Also, it supports all Magento 2 responsive themes, as well as the Webkul Multi-Vendor Marketplace Module.
The latest version is compatible with Android Studio 3.5.1, Android OS 5.0 (Lollipop) to 9 (Pie), and iOS 13.
It supports the following browser on desktops: Firefox 5+, Google Chrome 14+, Internet Explorer 7+, Opera 11
However, on mobile, only Google Chrome, Apple Safari, and Opera are functional.
PWA features
The extension provides several PWA features as follows:
Fast Browsing Speed (after experiencing its demo, we supposed that this PWA extension is not fast enough)
Offline Working Mode
A2HS
Push Notifications (only available on Android devices)
Lightweight
Easy Installation
Less Data Consumption
No Update Requirement
Additionally, every page is secured with an HTTPS connection, safeguarding your customers' data. You can also upload a splash screen image for iOS devices.
Workbox features
According to the company, Workbox is responsible for cache updates and provides excellent tools for creating high-level PWAs. It aids in the performance of PWAs and offers a variety of options for creating an offline-first experience.
This feature improves the website's responsiveness by allowing the materials to be retrieved faster.
It is to set cache limits, such as how long details may be retained in a cache and how many items can be saved in a cache.
Even if the customer has exited the app, sync events repeat failed queries to offer the intended search result. Therefore, it is helpful in situations of poor or disrupted internet connection.
It improves the performance of the PWA by allowing for faster page loading with the ability to cache assets in the first page load.
More
PWA's orientations can be set to Any, Natural, Landscape, or Portrait.
Graphical Representation Of Download Analytics
With this feature, the admin can view the PWA Download and Reject Analytics in graphical representation.
You can choose between Fullscreen, Standalone, Minimal UI, and Browser display modes for your PWA.
Using the date filter, the admin can also see the total number of downloads on any previous date. The number of rejections can also be tracked, and you can see all this data in a graphical representation.
3. Documentation
Although the company provides a user guide documentation that you can access from their Webkul Magento 2 PWA Extension page, it is not detailed and informative enough.
In general, it gives you instructions on the installation, translation of the module language, creating Firebase Product Credentials, configuration, etc.
4. Demo review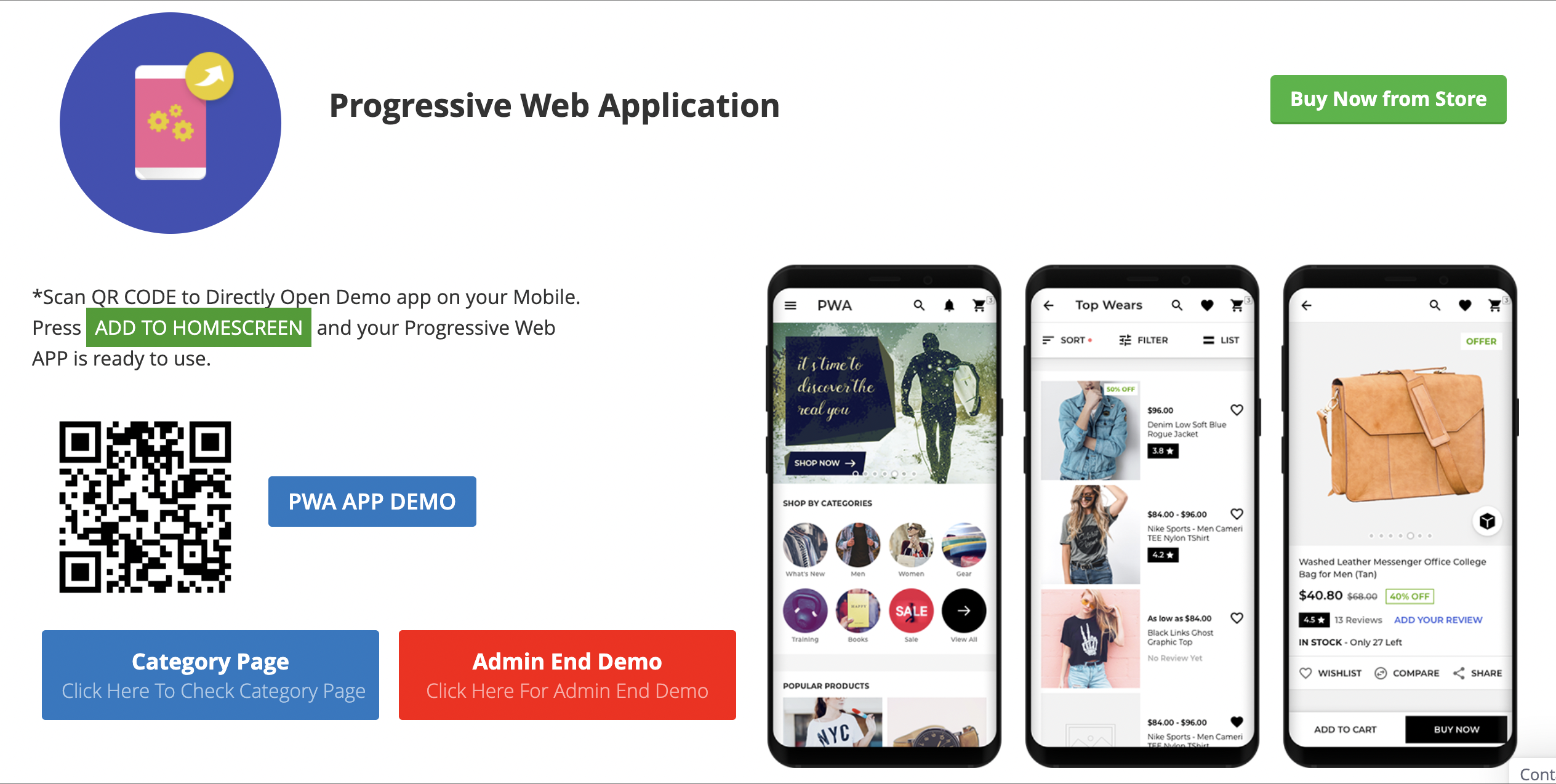 We scanned the QR code to access the demo on mobile devices. However, it wasn't enjoyable. There was no app like on the screenshots, just like the other 2 Magento default websites. Moreover, we did not see any add to home screen popup on the site. And the site, in general, is slow, reloading every we moved to another page.
We wondered whether the Webkul Magento 2 PWA extension was disabled temporarily or was useless. Please try it yourself and let us know if you have the same negative experience.
In Short
Although PWA extensions are always advertised as an effective solution for Magento merchants, they are, in fact, not as helpful as your expectation. The bottom line is that they cannot turn your websites into real Progressive Web Apps and give you all the benefits of this top-notch technology.
Even Webkul Magento 2 PWA Extension – a prevalent PWA extension cannot fulfil all your requirements. The reason is its headless architecture is created as a Magento 2 add-on rather than as a standalone frontend instance, not to mention that some PWA key features are missing.
As a result, you may choose another alternative method for PWA conversion, and using a PWA theme is highly recommended. We have already reviewed many common themes on the market, and you can read to know more about this solution.
Webkul Magento 2 PWA Extension Review